Students earn service hours despite the challenges presented by COVID-19
Hairnets and ladles. Nails and hammers. Trips to developing countries. That's what getting service hours typically looks like, but COVID-19 has changed this.
However, while COVID has changed what gaining service hours looks like, it has not changed their importance as a part of graduation at Grady. Students need 75 hours to graduate and are encouraged to earn even more.
Juniors Francesca Ruhe and Jack Kast would normally get service hours by attending school in person to judge middle school debates, but now debate tournaments are all online and their plans had to be modified. This summer they got volunteer hours by judging at online debate camps.
"Traditionally in the debate community, we go to fun places like New Hampshire, Berkeley (California) or Michigan for around four to seven weeks," Kast said. "The pandemic caused all of our debate camps to be on Zoom, and that was extended to middle school."
However, Kast and Ruhe were able to find silver linings in the online camps. Kast says COVID-19 "propelled" him to want to help.
"Because of COVID-19, I think it's particularly important to serve and help out now," Kast said. "There's so much turmoil around middle schoolers wanting to continue things that they are passionate about, but since online is a brand new format, they would naturally face more struggles."
Ruhe also earned service hours by co-founding the Grady Phone Bank, a student-run platform that aims to lobby for the passing of progressive legislation. She did this to help give those who wanted to stay safe from the pandemic a voice.
"After the George Floyd protests, there was a lot of uproar online from people who really didn't seem to have an outlet to get it out," Ruhe said. "I couldn't go to protests, and I think a lot of people were looking for a way to make change without attending them."
Grady clubs have also been offering service hour opportunities. Senior Madeline Moser, president of Healthcare Occupations Students of America (HOSA), a club for students interested in healthcare, has been working with other officers to start drives. A book drive for Children's Healthcare of Atlanta was held this summer, through which students could earn service hours.
"We thought that a lot of people were having problems with getting service hours because we're in the middle of a pandemic, and you can't really volunteer in many places," Moser said. "We thought a book drive would be easy. Most everyone has old books they want to donate."
The book drive raised almost 700 books and helped many students gain needed service hours. This encouraged Moser and HOSA to start a second fundraiser. HOSA is currently holding a card drive through the end of September, at which point the letters will be delivered to an elderly home.
"We wanted to do a card drive because we knew that people can spend time making them," Moser said. "The elderly home is also affiliated with Grady Hospital, and the cards will hopefully make someone happy."
Some students are still able to volunteer in person, but with strict protocols enforced. Over the summer, sophomore Lily Morris volunteered at Camp StarDust, an acting camp she used to attend.
"I definitely think it's a lot harder to get service hours," Morris said. "Volunteering at nursing homes and soup kitchens isn't really an option. If I didn't have this acting camp, I think I would be in deep-deep trouble."
Morris choreographs and teaches at the camp. She was happy that she could continue another year at Camp StarDust.
"Camp StarDust introduced me to the world of theater," Morris said. "I volunteered there because little kids are so fun, and I want to make sure that they get to love theater and maybe pursue theater in high school."
Despite the challenges, students are finding creative ways to gain volunteer hours.
"I think many activities are still happening that will allow you to get service hours," Ruhe said. "You just have to look a little harder."
Leave a Comment
About the Contributor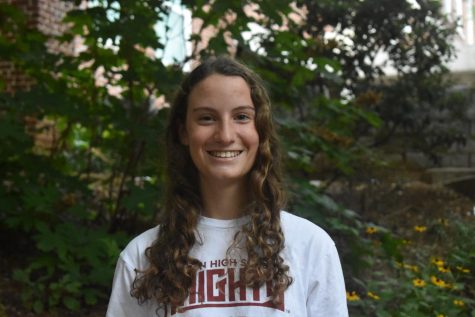 Shay Bowman, Lifestyle Managing Editor
Shay Bowman is a senior and this is her third year writing for the Southerner. When she's not writing, she's playing club and school soccer, practicing...