Girls cross country begins despite pandemic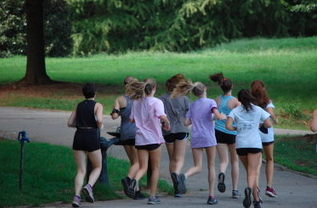 Many sports seasons are up in the air this fall due to Covid-19. Cross country, however, is on to compete.
The girls and boys cross country teams started their pre-season training in June and July. They practiced three times a week from 8:30 a.m.-10 a.m. at Piedmont Park and Candler Park. As the school year started, the team transitioned into training more often, at five times a week.
"Originally, we were only having 20 people at every practice, and they separated the boys and the girls," sophomore Sarah Prevost said. "They check your temperature at the beginning of practice; we have to wear masks when we get there, and then, we have to answer a questionnaire to make sure we don't have any symptoms or have been in contact with anyone who has had Covid recently."
Over the summer, because the team was not practicing as often as it usually does, runners were expected to train by themselves and log their runs into a spreadsheet, which was monitored by the coach.
"Seeing that as part of my training helped me out a lot because I could see how much everyone else was running and how much they were doing, so that kind of made me feel like I also needed to be keeping up with my teammates," junior Zoe Chan said. "It encouraged me a lot to run on my own, which is something I hadn't done in previous years."
Only one girl graduated last year, so the team will look very similar. Many of the returning runners have worked hard this summer in preparation for the season.
"I think the team has definitely improved since last year," Chan said. "I think our team is fairly young, so we have people who were freshmen last year, and they have made huge improvements over the summer and this year in general. We also have some good freshmen that have come in, and we have more juniors and sophomores who have come in as well, and I think they are going to make a big contribution to the team."
The team's first meet of the season was on Sept. 5 at Woodland High School. The girls placed 2nd overall. The meet did not enforce masks, and did not have delayed starts, unlike what was previously thought.
"Everyone was supposed to be wearing a mask, our team obviously did. Everyone from Grady and the parents wore masks, and all of the schools from Atlanta, like North Atlanta also wore masks," sophomore Emilia Weinrobe said. "The other cities' schools that were not in Atlanta did not wear masks. You were supposed to, but no one really did, which was really weird."
However, the Grady team took more precautions.
"We all rode on the bus, but we had to sit one person to a seat, and we wore our masks basically the whole time, right up until right before we ran. The tents were more spaced out than usual. There weren't as many spectators and most of the spectators were wearing masks. We also separated ourselves," Prevost said.
Even though there is new competition in the AAAAA classification for the girls this year, like Woodward, Blessed Trinity and St. Pius, Cramer still expects the team to do well and place at state.
"I think that the team will be stronger than it was; they finished eighth at state last year," Cramer said. "It's going to be tough because there are new schools in our classification this year who are very good, but I would be pleased to finish at the top eight this year at state. I think that would be a good accomplishment."
Because the cross country season was so uncertain at the beginning of the summer, the runners and coaches are excited to have a season at all.
"That was just up in the air from the very, very beginning, you know, will there be any sports in the fall, and particularly, would there be any cross country?" Cramer said. "Most of the other sports have begun to play now. That's the big deal, that we are going to get to race."
Leave a Comment
About the Contributor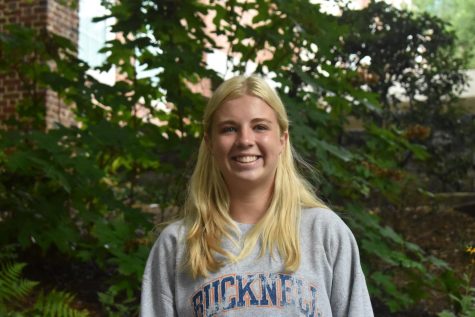 Archer Streelman, Co-Editor in Chief
Archer Streelman is a senior writer for the Southerner. She loves playing soccer, hanging out with friends and traveling. She is super excited to continue...