Seniors' podcast explores social and environmental issues
With the headlines raging every day with stories about social injustice, racial inequality, and gender bias, it is hard for anyone to be immune from being impacted, Grady students included.
Two Grady students are taking this on in their own unique way.
Seniors Bianca Weber and Chloe Huggins started the podcast "We Will Not Be Televised," which educates listeners about feminism and politics from a new perspective: Generation Z.
It all started when Huggins had listened to her first podcast, "Team Deakins" by Roger Deakins, a famous cinematographer.
"When I was listening to it, I kept thinking to myself, 'it would be so much more interesting to listen to a more youthful podcast, rather than listening to old people avoid talking about things that need to be said and heard,'" Huggins said.
She then did more research about podcasts and noticed a lack of representation from people her age, from Gen. Z.
"We keep hearing politics from adults, so we thought: 'why don't we hear it from a Gen. Z viewpoint?'" Weber said.
Huggins knew of Weber's passion in politics, which inspired the girls to start their own podcast, discussing current issues from a younger outlook.
"I have been out protesting a lot recently, so I am constantly frustrated with our current political climate," Weber said.
They released their first episode, "Gloria Steinem and the Playboy Aesthetic," on Aug. 20. Their voice recording method of choice? Apple earbuds.
"We always do planning and layouts over Facetime but record together in person socially distant and in masks," Weber said. "Then, Chloe edits for hours because the sound quality is not the best with Apple earbuds."
The first episode explains the Playboy aesthetic and Gloria Steinem, an investigative journalist who snuck into the Playboy Club by posing as a waitress.
"Our first episode is a lesson on misogyny through the Gen. Z perspective," Weber said. "We talked about the story of Gloria Steinem infiltrating the Playboy Club and problems with the Playboy aesthetic today."
The second episode featured a guest star, junior Madeline Moye, co-founder of the Grady Sustainable Fashion club. They discussed thrift stores and sustainable fashion.
"In the second episode, Madeline teaches us about sustainable fashion, best thrifting spots in Atlanta, the dark side of thrifting and the circular fashion model," Weber said.
The circular fashion model explains the designing, retailing, consumer usage, and recycling aspect of the fashion industry.
"When you buy clothes, you aren't really thinking about where it's going to end up, but the sad thing is that most of it just ends up in landfills and in the garbage," Moye said. "It's really polluting our environment. It was good to talk about that and get to educate people about this issue."
Senior Lucy Strohl made an appearance in the third episode, where they discussed sexism in the film industry and sexist female archetypes.
"Bianca and Chloe were super fun to talk to, and I was expecting it to be so much more awkward and stilted but it wasn't at all," Strohl said. "It felt really natural to just talk."
The podcast has received international attention since its release.
"What really surprised me was the amount of my friends that live in Asia, Europe and Australia that were listening to it and texting me about it," Weber said. "It felt really cool to know that people were listening to it all over the world."
17-year-old Veronica Benazzo, who lives in Turin, Italy, went to elementary school with Weber in Sweden and has kept in touch with her ever since.
"When I heard Bianca was starting a podcast, I was really excited because I don't usually hear people our age start a podcast, especially when it's about politics," Benazzo said.
Benazzo explains that Huggins and Weber's American viewpoint on topics such as fast fashion give them a unique perspective for international listeners.
"Hearing about [sustainable fashion] from a different country's perspective really helped me understand more about it and how I can do a better part in helping in this situation," Benazzo said. "In Italy, there aren't as many service jobs as America so I learned a lot about sustainable clothing."
This podcast has also allowed people to get to know the girls better.
"I came to Grady as a sophomore and didn't really know anyone, so it was really hard for me to find my voice," Huggins said. "I feel like this podcast really helped with that. That's why I was so nervous for it to come out because then people from Grady would get to really know my personality."
The co-hosts both hope their podcast makes a difference in educating younger generations in a fun and entertaining way.
"Our generation is important," Huggins said. "We are going to be voting soon, so it is crucial the people that listen to us are educated on certain topics as they make smart decisions in the voting polls."
Leave a Comment
About the Contributor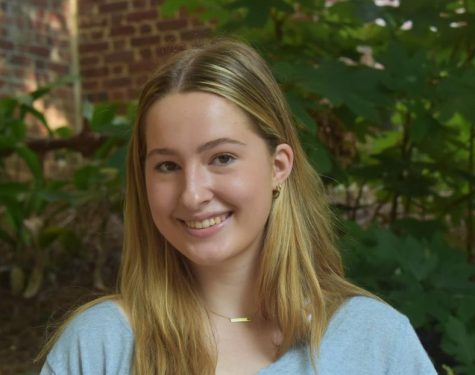 Lindsay Ruhl, News Managing Editor and Social Media Editor
Lindsay Ruhl is a senior, and this year she's the news managing editor and the social media editor. She loves making fun Instagram Story posts and covering...