Alumni protest in favor of Grady name change
Twenty Grady alumni gathered on the 8th Street side of the school to show support for renaming the school, which is under consideration by the Atlanta school board.
Demonstrators, primarily from the Class of 1996, carried signs and expressed solidarity with some current students in favor of the name change, while also hoping to capture the attention of the school board.
The school's namesake, well-known journalist and orator Henry W. Grady, was a proponent of white supremacy. He once said in a speech that "the supremacy of the white race of the South must be maintained forever." Alumni attending the protest said his values aren't representative of the culture and community of Grady, and they believe a name change is overdue.
"Alumni have our opinions, and we have experiences, memories, bonds and friendships and all these great things associated with Grady," said Patrick Busko, Class of '96. "We will still have those when the name is changed. But, what I think is important is that the students who go to this school and graduate from this school can be proud of the school and can feel welcomed. The name and the person attached to the school should really reflect the culture that is the school."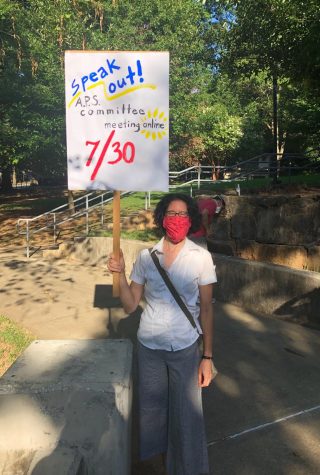 The protesters want the Grady community, past and present, to participate in the name change process. One alumna from the Class of '96, Annie Frazer, carried a sign that read "Speak out! APS committee meeting online 7/30" to remind and encourage her fellow demonstrators to attend.
"I would say everybody has a way to be vocal," Frazer said. "Some people's thing is not coming out to hold a sign and do a demonstration. Some people's way is to write in; Atlanta Public Schools has a form where you can write in and express your preferences about a name you'd like to see or just express your feeling that the name needs to change."
As a Class of 2000 alumnus with a rising freshman daughter, Rahwa Tassaw was eager to join the renaming movement. Tassaw doesn't want her daughter to be "graduating, like [she] did, from a school named for a white supremacist." However, when she attended the first virtual public meeting with the renaming committee, she realized that there were only a few members of color on the committee. That motivated her to advocate for the inclusion of more people of color, especially African Americans, into the conversation.
"I just think it's utterly tone deaf that this committee has very little Black representation," Tassaw said. "I've started a petition for it that has gotten over a hundred signatures already; it's been a few days, and hopefully, I'll get more."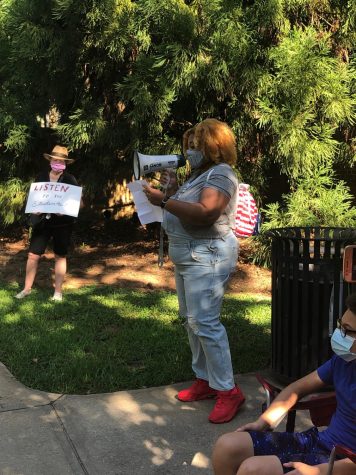 While the movement to rename the school is decades in the making, the alumni protesters recognized that it is now the current students' movement.
"I think we all know why we love Grady and what we got from Grady, and it's time to give some of that back and be supportive of the students who are still here," Busko said.
One recent alumnus in attendance was Class of 2020 grad Royce Mann. He was vocal about the issue, starting a school-wide petition during the 2019-20 school year. Mann made it clear that this movement to rename the school isn't going away.
"How can we expect to dismantle systems of white supremacy if we still refuse to get rid of the symbols?" Mann said. "When people try to tell you that the name doesn't matter, then ask them what they're doing to actually confront systemic racism."