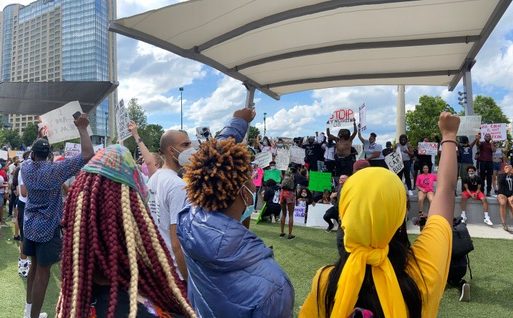 Students share perspectives on police brutality protests
Those frustrated with the deaths of African Americans at the hands of police officers have taken to the streets, joining widespread protests in major cities across the nation, including Atlanta. The deaths of Ahmaud Arbery, Breonna Taylor and George Floyd, among others, have catalyzed a movement against social injustice, systemic racism and the state of policing in the United States.
Largely thanks to social media and coverage from news outlets, these deaths have received widespread attention, strengthened the platform of those fighting against social injustice and fostered a new age of activists. For many students, these deaths have fueled their own personal outrage in regards to police brutality; now more than ever, the youth want their voices to be heard.
For senior Inaya Abdul-Haqq, she sees a striking resemblance between the protests and the Civil Rights Movement that her father experienced first-hand and told her stories about.
"I was talking to my dad about this, and he was like, 'for me, it was Emmett Till, but for you guys, it's George Floyd'," Abdul-Haqq said. "The name may change, and the story may change, but we're still fighting for the same things. The parallels are uncanny."
Senior Griffin Richie* supports the Black Lives Matter movement but views riots as counterproductive to the end goal of the movement. 
"The anger behind the riots is 100% justified," Richie said. "However, riots can hurt Black and brown-owned businesses. Additionally, some people may equate looters to the peaceful protesters, and that undermines public support for the movement as a whole." 
To amplify the voices of those who feel strongly about the movement, the Southerner gave Grady students the opportunity to share their opinions on the state of recent protests. Five students reflected upon their viewpoints of the demonstrations and the driving forces that ignited protests.
*Griffin Richie is the brother of the Southerner editor Dana Richie, who contributed to this article.