Extracurricular activities persist online despite challenges
Freshman Mia Smith plays on the Grady ultimate frisbee team. She is used to running, catching and throwing the frisbee with her friends during practice.
However, due to the coronavirus, practices had been moved online, forcing Smith to exercise in the safety of her house.
"The virus has completely taken away face-to-face practices and pretty much ended the season," Smith said. "We had Zoom practices which recently ended, but there really wasn't much ultimate involved. The Zoom practices were just a work out which is beneficial, but it's different than playing the actual sport."
Likewise, many extracurriculars have temporarily moved to Zoom and other online video communication platforms during the social distancing period.
Karla Tievsky, who teaches many students from the Grady cluster, began teaching the violin 33 years ago. Now, she teaches in her private studio in Virginia-Highland. During this time, she has switched her lessons from her studio to Zoom.
"The experience has been a big learning curve," said Tievsky. "I found that after the first two weeks I was exhausted at the end of the day, but I was also very happy that I could continue teaching my students and keep in touch with these families."
However, teaching online means she's had to alter her normal teaching methods. Tievsky teaches using the Suzuki Method, an approach to teaching based on the same principles of language acquisition, which puts a heavy emphasis on sound production, especially tone.
"While some of my students have a USB microphone which improves sound to a point, others are using the computer microphone," Tievsky said. "The sound is greatly compromised from what I am used to, so I look for other signs of whether a student is playing with a clear, beautiful tone such as watching their bow arm."
In addition to music lessons, many students at Grady, such as sophomore Sophie Rice, participate in religious groups outside of school. Rice's youth group at Shearith Israel Synagogue has also been hit hard by the virus.
Nancy Gorod, the Director of Congregational Learning, has led the youth group at Shearith Israel Synagogue for the past five years.
"We would usually make pizza, play group games, have a scavenger hunt through Atlanta, tie-dye, volunteer at the women's shelter, and other activities that have lots of hands-on involvement," Gorod said. "But now, we meet over Zoom or play online games."
Rice understands the importance of social distancing but still wishes meetings could go back to normal.
"I miss face-to-face meetings," Rice said. "Online I get distracted more easily, so I feel like normal meetings are more productive. But mostly, I miss being able to see and hear everyone in person rather than staring at my computer screen. I miss human interaction."
Extracurriculars are often a time for students to connect with peers from within and outside of the Grady community. As it is crucial to stay home, students are beginning to feel the effects of not being able to see their classmates, teachers and friends.
"I think the hardest part is that I miss my teammates, and when it's online, not everyone comes," Smith said. "Most people turned off the camera and audio, so this way even though we were together, we weren't really interacting."
Although Smith misses practicing with her team in-person, she comments that online practices were better than no practice at all.
"At least it was good to know my teammates and coaches were safe," Smith said. "The Zoom meetings were helping me stay motivated and work out."
Regardless of this difficult time, Tievsky notes a highlight from the past few weeks.
"A week after we started distance learning we had a YouTube recital," Tievsky said. "Everyone sent videos of their pieces and they were posted on a private YouTube page at the time of the recital. We all watched together, liking, commenting and supporting each of the students in their accomplishments. It was a wonderful way to come together and celebrate even though we could not be together."
Despite the challenges of online learning and teaching, Gorod and Rice choose to look on the bright side. Rice comments that the youth group has improved their communication skills, and Gorod reflects on how the virus has strengthened the group.
"There are more opportunities for regional and sub-regional events that our chapter can participate in, which is bringing them closer to one another," Gorod said. "There are things they may not have been able to go to due to transportation or time. As people are getting more creative with online programming, it brings teens together from different cities and has made the youth group stronger."
Leave a Comment
About the Contributor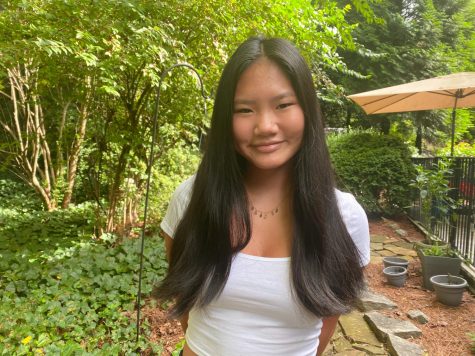 Grace Langan, Lifestyle and A&E Section Editor
Grace Langan is a junior, and this is her second year writing for The Southerner. This year she is excited to be the Lifestyle and A&E Section Editor....