My experience with coronavirus death
As we pulled out of the driveway of my grandparents' home in Virginia after celebrating Christmas last December, I never would have imagined it would be the last time I'd see my grandfather. 
On April 6, we discovered that my grandfather had tested positive for coronavirus. He had been sick and self-quarantining since March. The next day, when he began to have trouble breathing, my grandmother dropped him off at the hospital, and unknowingly said goodbye forever to her husband of 55 years.
I was allowed to join the call with his palliative care doctors. They asked us what made life worth living for Michael McCullough, to which my grandmother replied, "family." The doctors apologized that we were unable to visit him in the hospital due to the unusual circumstances. We stayed hopeful.
After 12 days in the hospital, on and off a ventilator, my grandfather died on the morning of Saturday, April 18. I had gotten to talk to him one last time the day before and reminded him how much I loved him. "I love you too, dear," he responded, his voice hoarse and nearly unrecognizable. When my mom woke me to share the news, my heart sank. It felt like I was living in a nightmare. 
We keep hearing the same rhetoric that "just old people" will die of COVID-19. Just old people? Why are we comfortable with old people dying prematurely? My grandfather may have been considered elderly at his age of 81, but his life was certainly just as valuable as anyone else's. He was loved dearly by his wife, his brother, his three daughters and his four grandchildren. He had survived cancer twice before, but he remained an incredibly strong, capable and bright man. If he hadn't contracted the virus by chance, he probably would have been around for at least a few more Christmases.
While my classmates do online work, I've been helping to write his obituary and grieving with my family over Zoom. Life is far from normal anymore, for anyone, but I send my sincere thanks to everyone doing their part by self-quarantining, no matter how tedious and lonely it may be. You are saving lives, potentially of those you love.
My intention is not to spread fear. Fear did not help me prepare for the overwhelming pain of losing my grandfather. The best you can do is stay home and call your loved ones. Tell them how much you love them and why. You really never know when it'll be the last chance you get.

About the Writer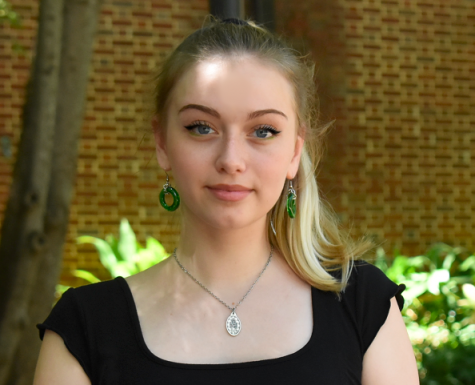 Sophia Maxim, Layout/Graphics Editor
Sophia is a sophomore and a Layout/Graphics, Photography, and Social Media Editor on the Southerner. Outside of writing, she spends her time taking photos,...