7 Stages provides unconventional learning process
7 Stages, a program aimed towards bringing artistic value into education, recently visited Grady for a five-week session.
The program, called "The Big Read," provides a co-teaching experience in which professional artists and teachers collaborate to guide students through a "unique, in-depth exploration of a selected work of literature" from the curriculum, according to the website.
"Art allows us to engage with information in a personal and meaningful way which allows us, as humans, to retain information better and is more inclusive of different learning styles," 7 Stages staff member Nicolette Emanuelle said.
This year, students were asked to create their own creative interpretation of Pretty Monsters, a collection of short stories by Kelly Link. Possible themes included pretty versus monstrous sides of humanity and fantasy vs. realism. Students were given freedom while making individual and societal connections to the book.
"I think that giving students an outlet to express themselves using the coursework is powerful," Gabi Collard, an education associate with 7 Stages, said. "Students can dig deeper into the material and relate it to their own lives. That is what we aimed at with 'The Big Read' residency program and Grady."
The students took varying approaches to the prompt, including comedic sketch videos, elaborate paintings, dramatic poetry and even TikTok dances.
"The actors that joined us let us express ourselves however we wanted," sophomore Georgia Rice said. "It was an interesting perspective to turn the book and its themes into a project displaying our personal passions and talents."
Many students chose to combine themes from the book with their own personal experiences. Sophomores Shaya Moghim Larestani and Yazmin Suastegui-Perulero collaborated on a painting to show both the "pretty" and "monstrous" sides of immigration while connecting some of their personal experiences to one of the short stories. Their artwork included imagery to represent the process of assimilation and the "American Dream."
"Shaya and my inspiration came from 'The Wizards of Perfil' when Halsa [one of the characters] was forced to be in a new environment and had to adapt to it," Suastegui-Perulero said. "Many immigrant families have to do this in order to have a better life and to be safer than in their home country."
Many of the students involved appreciated the lack of strict structure or guidelines involved in the process.
"I would describe it as very hands-off as their activities allowed for creative freedom on the assignments," sophomore William Wolgemuth said. "It was different from other projects because this project allowed us to make the project as we pleased rather than have a project with a strict rubric as [our teacher] typically gives us."
For many students, 7 Stages is a breath of fresh air from their typical, structured lessons. This alternative approach to teaching provides a less-restrictive environment rarely seen in high-school education.
"People have different learning styles and a traditional classroom setting often only caters to only one or two of those learning styles," Emanuelle said. "I don't know what the answer is, it's a large and very important issue that requires thoughtfulness, care and discussion. But I do see teachers, students, parents and arts organizations like 7 Stages advocating for change in the way we educate our youth to ensure we have a brighter future. "
About the Contributor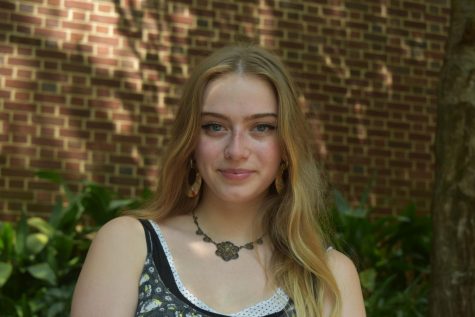 Sophia Maxim, Design/Layout Managing Editor
Sophia is a senior and a Layout Design/Graphics, Photography, and Social Media Editor on the Southerner. Outside of writing, she spends her time taking...