LGPE provides music programs with evaluation experience
The spring semester is the peak of stress for many students. With Milestones exams, AP tests, musical productions and competitions for many sports and clubs approaching, students tend to vent to their friends about all sorts of anxieties. However, one event tends to get lost in all of this madness —LGPE, or large group performance evaluation, an integral part of the music program.
"It's basically like the EOCTs (end of course tests) or Milestones in the music world," band director Artis Staton said. "It's our state adjudicated evaluated performance. It's how we measure growth and determine various things for the band and how to progress."
During LGPE, band and orchestra groups have to play three pieces, and chorus has to sing two in front of a panel of judges who evaluate the music on a scale of one to five, five is a poor and one is superior. 
"They rate on us seven criteria for each piece: intonation, which is our notes being in tune, tone quality, interpretation, musical effect, general effect, dynamics and rhythm," orchestra director Krissi Davis said. 
Every year, a music teacher is required to bring a group to LGPE. This year, the orchestra is sending two groups, the chorus is sending four and the band is sending one. Last year, both Davis and chorus director Kevin Hill earned superior scores.
"Am I ever completely happy? No," Davis said. "There's always room for improvement, but I'm proud of the work that the kids did last year."
This year, the chorus's event was on Feb. 19; the orchestra's event was on Mar. 12, but was postponed due to the coronavirus disease, and the band's event is on Mar. 11. The chorus scored all ones at the competition. 
Sophomore Madeline Moye is a member of the advanced women's chorus and musical theater, two groups that went for chorus to LGPE this year. 
"I was really happy with the way our performances went," Moye said. "We put in a lot of work, and it really showed."
Preparation for all groups begins in the first semester.
"[The preparation process] is very extensive. It really starts in August. That's when I start to evaluate the band; I decide where I want to be and how we get there," Staton said. "We start working, breaking the band down, really getting fundamentals set, so we can get to a place by December to where we're ready to actually choose the music."
Both Hill and Davis follow a similar evaluation process as Staton. They then choose music based on the group's proficiency. 
"When teachers pick their music, we have to choose from a list, and the songs are divided by levels. One being an easy level, your beginning orchestra-type pieces, all the way to level six, which is your masterworks: things that are not arranged, things you could possibly hear the ASO (Atlanta Symphony Orchestra) play in their concerts," Davis said. "The selection process [of the pieces] for me starts around November. I take into consideration where my kids are, and where I feel like I can get them to grow by their performance time."  
Guidelines for music choices vary for band, orchestra and chorus, with chorus required to do one acapella song and band required to do one march (which is chosen outside of the list), but the music for LGPE always has a technical focus. 
After selection comes learning the music and sectionals. All three teachers bring in guest clinicians and directors to form an idea of how prepared their ensembles are. 
"It gives me a chance to listen to the group, away from conducting and teaching, and it gives me a chance to get additional input," Davis said. "Other teachers may teach rhythm a different way that I didn't think about, so they can give us another view on how to approach things, which is always helpful."
Then comes the actual performances, where the groups perform their pieces and sight-read a completely new selection in front of a panel of judges. The judges provide comments on both of these when giving back their scores. 
"LGPE shows up what we have to work on," trumpeter and band member Bhuvan Saraswat said. "If we get a bad score, it shows us what we need to work on more because the judges give a detailed description."
These scores go on to impact the directors' choices on what to do for LGPE next year and the music program's reputation.
"Other core directors kind of get an idea of how well you did at LGPE,"Hill said. "The community finds out, and that gives us opportunities to perform. If the scores were not good at LGPE, we probably will not have the ASO gig that we have in the fall."
Though this event has a significant impact on the orchestra, band and chorus, very few outside of the music programs know of it.
"It's important," violist Amelia Green, a member of the Philharmonic orchestra, said. "Sometimes we do really well, and when people don't recognize that, it's kind of like a slap in the face."
LGPE has a large influence on the music program, and provides both teachers and students with a valuable opportunity for evaluation. 
"It sets a tone for what type of group we are," Green said. "If we perform well, they think of us as a better group. It really does establish how serious we are as an orchestra."
Leave a Comment
About the Contributor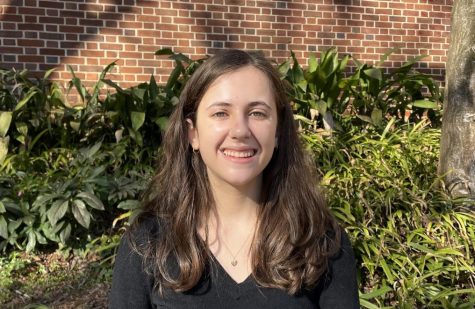 Anna Rachwalski, Co-Editor in Chief
Anna Rachwalski is a senior and this is her third year writing for the Southerner. Outside of the newspaper, she is president of the Quiz Bowl team, is...