Barton, NFL All-Pro with Grady ties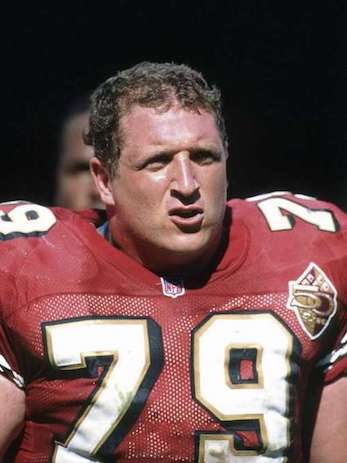 Joe Montana historically drove down the field against the Cincinnati Bengals on Jan. 22, 1989 to win the San Francisco 49ers their third Super Bowl. Many football fans remember the stars, but few remember the men in the trenches blocking for those stars.
Harris Barton is one of those blockers.
"I had no idea we were going to win," former NFL All-Pro offensive lineman Harris Barton said. " We had as good of a shot as any. Montana was cool as ice, and there we were 23 seconds to go in the game with the win."
Harris Barton, a Georgia native, grew up in DeKalb County and played football at Dunwoody High School. Barton's mother attended Grady, and his nephew, Wills Barton, is a current student.
"Uncle Harris is probably one of the coolest uncles you could ask for," Wills Barton said. "From his football fame to just his outgoing personality, I love being around him and his family.
Harris Barton started his football career at age 5 in Morgan Falls in Sandy Springs after "seeing a sign that said if you would like to play football, ages 5-18, please come out and register."
He played football at the University of North Carolina at Chapel Hill before playing in the NFL for the 49ers.
"I was recruited by 50 different schools, but I chose North Carolina for the education and the opportunity to get into a tough, out-of-state school," Harris Barton said.
After playing for the Tar Heels, the 49ers picked Harris Barton 22nd overall in the 1987 draft. He was the second lineman taken that year after "a gentleman by the name of John Clay," who was taken by the Los Angeles Raiders.
"That was a thrilling moment," Harris Barton said. "It was 1987. It was actually the first year ESPN covered the draft. I remember sitting in an Italian bar that had ESPN on cable and watched it with my family and friends. It was amazing having my family and friends there and being drafted by a team that had been so close to a Super Bowl the year before and guys like Joe Montana and Ronnie Lott on the team. I had never been to San Francisco before, and the next day I got on a plane and flew out to San Francisco and really, basically never came home."
Harris Barton's athleticism and stature helped lead him to his success.
"My uncle is probably the biggest man I've ever seen in person and is definitely the biggest in my family," Wills Barton said. "He's the most immovable person that I've ever been around. If he's blocking you, there is absolutely no way you're getting past him."
Harris Barton blocked for two Hall of Fame quarterbacks with the 49ers, Montana and Steve Young, and he was quick to learn the secret of success, winning three Super Bowls: 1989, 1990, and 1995.
"To block for two hall of fame quarterbacks is something a lot of people can't say," Harris Barton said. "You learn real quick that they're not only great players, they're great people — Jerry Rice, Joe Montana, Ronnie Lott, Steve Young. Everyone at the 49ers organization are first-class people, and they were hard workers. If you came into the league as a first rounder, and you got into the locker room, and you see a guy like Jerry Rice or Montana doing extra sprints or watching extra film, you realize if you're going to make this team as a contributor, then you're going to need to work harder than those guys."
Despite playing in three Super Bowls and winning all three, Harris Barton said the nerves never get any easier.
"The first Super Bowl, it's nerve-wracking, and so is the second, and so is the third," Harris Barton said. "You sit in the locker room and realize that everyone in the world is watching, and you don't want to be the one to make a mistake to cost the game. Fortunately, I wasn't, and I had other great players on my team, so we won all of the Super Bowls I was in—the last two decisively, and the first one, in the last second."
After football, Harris Barton started his own company that helps people invest in Silicon Valley and he started a charity for kids after both his parents passed away from brain cancer.
"I wanted to raise capital to help figure out the disease [brain cancer]," Harris Barton said. "That morphed into helping kids out and kids with brain tumors, but my parents loved theater and Broadway; so we started it, and bought a bunch of tickets to see the Lion King, and it's been going strong for 16 years now. We call it champion charities, and I found it with Ronnie Lott, and over the last 15-16 years, we've raised $30 million for charity."