American holiday purchases are unethical, unsustainable
During the upcoming holiday retail season, with events like Black Friday and Cyber Monday, we'll all buy things we don't need just because they're cheaper. Many see the lower prices as an opportunity to treat themselves or finally buy their little sibling one of the hottest toys of the season. But these retail events contribute to a disturbing problem.
According to the National Retail Federation, holiday retail sales this year will total between $727.9 billion and $730.7 billion. That's an average of over $2,000 per American (the U.S. population was about 327.2 million people in 2018.)
Obviously, not every person has or will spend that much money, but it still indicates the ridiculous amount of spending we do around the holiday season. As we approach this joyous time of year, we must evaluate our spending habits and ask ourselves some tough questions.
Is it right for us to spend so much money? Are these gifts going to good use, or just ending up in the landfill? Are the very same gifts that we place under our tree made in terrible conditions, costing other people their livelihoods? And do we really need to spend money to create joy?
America's holiday gift-giving only adds to the hundreds of millions of tons of waste we produce. Americans produce 25 percent more trash in the period between Thanksgiving and New Year's Day than any other time of year. This adds to the 254 million tons of trash which we produce annually, equivalent to the body weight of 7.6 million humpback whales.
Though some gifts are donated, returned or reused, too much waste is being created in the name of joy and festivity.
Wrapping paper, plastic packaging and bad gifts often head straight to the landfill instead of being recycled or returned. Even if these gifts are recycled, they may instead end up incinerated, in dumps in Southeast Asian countries or just being put into the landfill.
You might want a green and red plaid coat or sparkly boots for the holiday season, but you don't need them.
Fast-fashion companies like Forever 21 and H&M continue to make trendy, cheap clothes that are meant to be worn for one season and thrown out when they're not "in" anymore, adding to our waste and destroying our planet.
Additionally these clothes are often made in terrible working conditions. In 2016, Forever 21 and Ross Stores were found to source from factories that paid $4 an hour. In 2013, a factory in Bangladesh collapsed, killing over 200 workers and spurring a pact by most major garment retailers to advocate and source from safe factories in Bangladesh. Your happy holiday might mean endangering the lives of others.
And it only gets worse. Amazon, everyone's favorite last-minute holiday retailer, was recently found to be selling clothes from those very same factories that most retail companies have banned. In fact, Amazon's third-party product sourcing has caused a multitude of problems, including spoiled food sent to customers and bribes from "Amazon's Choice" sellers to consumers in return for five-star reviews. During the holidays, when 60-hour work-weeks are mandatory, Amazon warehouse employees are treated in an "aggressive" manner and forced to fulfill brutal quotas.
Shopping during the holidays is fun. But it's not sustainable or ethical, and it's using up a lot of our income for gifts that provide immediate, but not long term, gratification. We need to take a deeper look at our retail patterns and preferences and fix them accordingly.
Consider buying experiences instead of things. I'm not saying you should go to Bali, but maybe take your mother to the nail salon instead of buying her some socks she'll wear once, or bake some cookies for your family and friends.
And most importantly, think before you head to checkout or click the purchase button. What's more important — a moment of happiness, or a lifetime of knowing you've made the right choices?
Leave a Comment
About the Contributor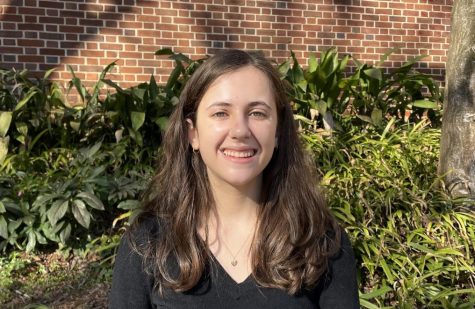 Anna Rachwalski, Co-Editor in Chief
Anna Rachwalski is a senior and this is her third year writing for the Southerner. Outside of the newspaper, she is president of the Quiz Bowl team, is...