Cross country, athletics bring growth, teach life lessons
My first day of high school did not start in August much like everyone else's. My first day started June 1st. We met at the Candler Park pool around a few benches in the excruciating heat, but that was not the only reason I was sweating. Everything was new: the coach, the runners; every face seemed intimidating as a rising freshman in 2016 at my first high school cross country practice.
For many, including myself, running has been an integral part of my high school experience. It's taken up nearly every day, sometimes even mornings, of my years at Grady. In the fall, it's straight to the locker room to do an ab workout and then right over to Piedmont Park where we are debriefed by Mr. Cramer (coach Jeff Cramer) about the day's workout.
The winter brings occasional morning runs in freezing temperatures, the feeling of a total loss of control over my hands and toes. Then, finally, in the spring when track returns, it's once again the eminent daily grind. I have not had an off season in four years. Summer break is simply conditioning. There is not a day I have not thought about running since my first summer practice before freshman year, and it is, I'll admit, ironic that it is somewhat of a healthy obsession.
My first year of cross country was truly nothing too special. I was able to qualify for the top seven who ran at state and finished fourth overall on the team with a 75th place finish in Class 5A. While the numbers might not have looked all that great, I felt more than ever in my short time in high school that I had found a place for myself.
Cross country gave me a medium that allowed me to see improvement on paper when a shy, younger version of myself doubted where I fit in such a new place. Then I decided to run track and keep down the path I set for myself in the fall. That season, though not advancing past the region level, I broke the 5-minute mile and made even more memories solidifying that running was to be a major part of my high school experience.
The following year, with new coaching and a much more aggressive mentality, I dropped my times by nearly a whole 2 minutes in the 5K and went from 75th to 21st overall in the state meet in Class 5A. Running was no longer just a social scene, it was something I really saw myself having potential in. I was more invested than ever in the sport and soon it reflected in my performances. This past year I secured two track region championships in the 1600 meters and 3200 meters. Most recently, I took home a 5th place in the Class 5A cross country state meet with Grady placing on the podium for the first time in 14 years, finishing 3rd overall.
As I come toward the end of it all, I honestly have no idea what did it for me. I was nothing special on day one, but neither is anyone, for that matter. At first, I had no friends on the team, and it really was a lot of work. For some reason, I stuck with it, and it may have been one of the smartest choices I have ever made. For me, athletics at Grady have been nothing short of a rollercoaster with some unexpected twists and turns. There are days where I sit in class all day tapping my feet on the ground eager to utilize my legs for more than just simply sitting at a desk and walking to class. In contrast, there are days where I dread the thought of any type of workout because everything seems like it's going to hurt.
But, believe me when I say there has never been a time where I have doubted the highs would not make up for the lows of high school athletics. It's an amazing moment when you realize that, while there is a natural talent present in high school sports, many times, it just comes down to who wants it more, who trained harder and put in the work to achieve success. It's the great equalizer that makes victory so much sweeter.
At the end of the day, it's the success that you know you deserved that sticks with you the most.
I can't even begin to imagine what my high school experience would have been like without running. If it weren't for the grueling workouts, the memorable bus rides returning from either a defeat or a victory, the life lessons, the work ethic and even the friends I made along the way, I truly would be a different person. I just want to thank anyone who has been there or played a role in any part of these last four years of training, because I have no doubt that Grady athletics has, in the long run, changed my life.
View Comments(1)
About the Contributor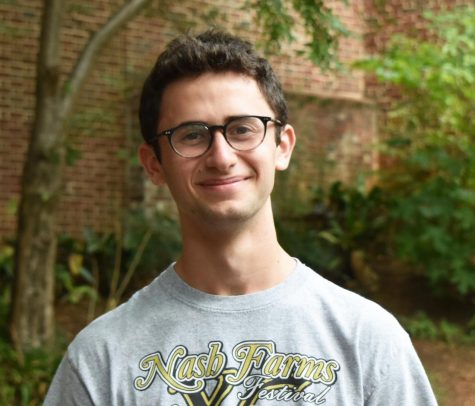 Bram Mansbach, Sports Assistant Managing Editor
Bram Mansbach is a senior and the sports section editor for the Southerner. When he is not working on pages he is across the street in Piedmont Park as...