New Course is 'Out of this World'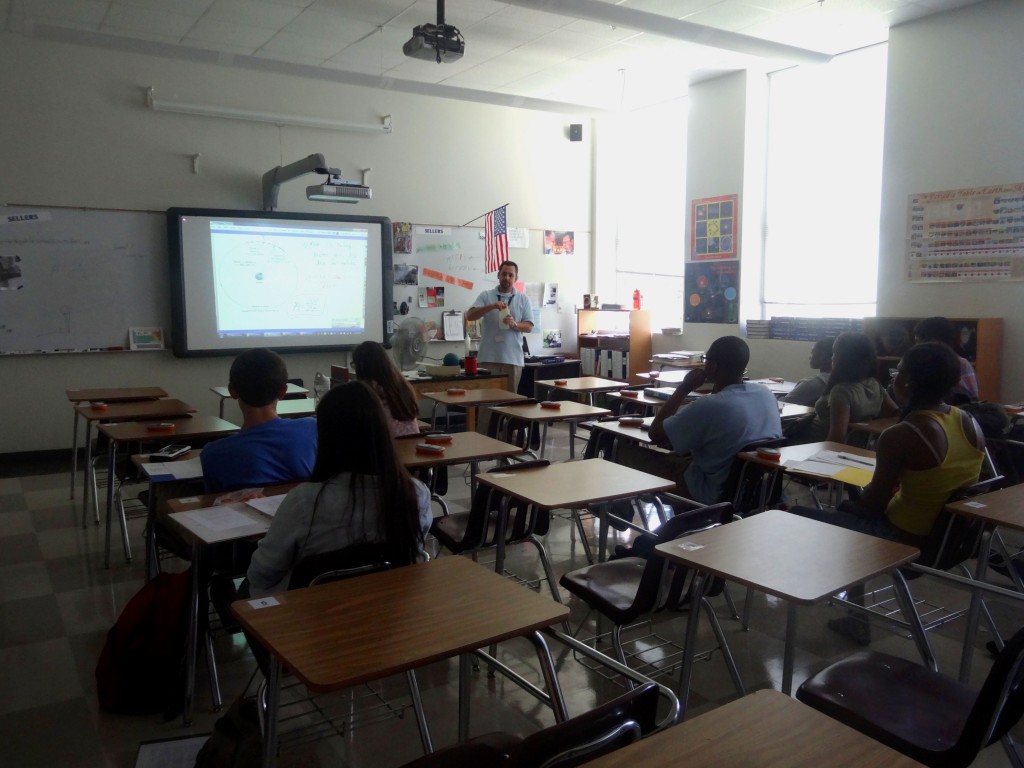 Hannah Martin
August 23, 2013
It's 8:15 in the morning, and students are starting to file into the astronomy classroom on the fourth floor. Normally, students are expected to be unhappy and groggy in the morning, but Sellers' students seemed eager to begin class.
"My favorite thing about astronomy is that it's the science that basically nobody knows anything about; I hate to say nobody but the average high school student knows very little about it," new Astronomy teacher, Mr. Sellers said. "And I think it's a very cool integration of math and science, much like physics. It's just a very different way to look at how science can be," Sellers was hired specifically to start the astronomy program.
Many students currently enrolled in astronomy are enthusiastic about being in the class; junior Jack Hutchins thinks that the class is "fantastic" after only a few weeks' worth of periods, and others are more than happy to expand their knowledge on outer space.
"The class is informative and interesting," junior Angelique Dale said. "Mr. Sellers is one of the best teachers I have been taught by. He incorporates the students in his lessons and maintains a positive vibe."
Dale, who learned of the course from her friends, had changed her previous schedule so that she could be enrolled in Sellers' class. Sellers says he is confident that students enjoy his class.
Sellers, a graduate from the University of Maryland, had previously been teaching in Maryland for seven years.
"I know that students have enjoyed it in the past," Sellers said. "I even know some students that have gone on to astronomy careers." Some students now want to pursue astronomical hobbies on the side.
"I definitely have learned a lot about our galaxy that I was very unaware of," Dale said. "This learning curve has surfaced a raging passion for star gazing; I can't wait to try it."
Hutchins says he also wants to try stargazing in the near future, though he had no prior interest in it.
Every class period, students immerse themselves in Sellers' lectures of new theories regarding our universe and its creation. Lectures so far have covered various orbital theories and passing the speed of light, and future lectures will introduce how stars are formed and planetary systems.
"[The class] is a lot more relaxed than I thought it would be," Hutchins said. "He's a really cool teacher, and it is a lot more interesting than I thought it would be, too."
Sellers also has high hopes for upcoming class periods.
"In the future, I'll probably try to connect [astronomy] to an academy, and connect to Georgia Tech to do an internship type of thing," he said. Sellers plans on helping students who are interested pursue scientific careers in the future, when the class is more integrated into the school.
Dale eagerly anticipates the upcoming extensions to the astronomy program.
"I'm really open minded at this point in time but this class would most definitely better me as an aerospace engineer," Dale said.
Although the majority of students will probably not go on to pursue scientific careers, the curriculum, Sellers said, is meant to strengthen students' interests in both math and science.
With both students and teachers eagerly anticipating the future of the new Astronomy program, Sellers says he plans on teaching at Grady for a long time.