Seniors Cottrell and Nichols revamp art honor society
Full schedules and emphasis on academics often leave little room for the arts in high schoolers' lives. However, by revamping the National Art Honor Society (NAHS) at Grady, seniors Mackenzie Cottrell and Rose Nichols aim to solve this problem.
"The National Art Honor Society is basically for individuals who strive to make a difference through art outside of school," Cottrell said. "We get to do a lot of cool activities throughout the community."
NAHS is an organization that increases the connection between art programs across the country.
"It allows access into the larger network, but it doesn't guide projects," art teacher John Brandhorst said. "It's an art service organization, so we'll use that to help with murals and hopefully organize art shows, whether it's just in the school or regional. That's a way to bridge those gaps, as well."
Cotrell and Nichols have both been involved in the art program throughout high school and were in Advanced Placement (AP) art both last year and this year. Additionally, Cottrell has been in art club since her sophomore year of high school. Nichols says that she has taken every art class the school has to offer, including Art History. Their passion for visual arts inspired them to try and make art more widely available for students.
"Not only does it [NAHS] give kids who aren't in art classes an outlet and a way to get critiques, but it's also a community service opportunity and a way to put your art out all over Atlanta," Nichols said.
Though students in the art program have been members of NAHS in previous years, they were mostly inactive in the organization outside of participation in the state-sponsored art event Throwdown. Cottrell and Nichols told Brandhorst that they wanted to change this and volunteered for the endeavor.
"They've totally taken the initiative," Brandhorst said. "In my opinion, that's the way it should be. I don't want people to be in 'Mr. Brandhorst club,' I want people to me in their club and I just unlock the door and be a guiding presence."
The two handle different aspects of managing NAHS, along with the art club; Nichols says that Cottrell is the more outgoing of the two and handles the more interpersonal side of it, while she does more "analytical" tasks. Cottrell describes them as being "like the two sides of the brain."
"Mackie's the people person; she spreads the word, gets people excited, all that kind of stuff, and I get the presentations done," Nichols said. "Mackie's the fun one, so Mackie outputs a lot of what I want to do with people. I kind of do the dirty work."
The notoriety that comes from NAHS helps the art department, which, at the end of the day, is what is so important to Nichols and Cottrell.
"[NAHS] shows that the arts are important," Cottrell said. "I feel like art is kind of overlooked, so having a group of people that really enjoys art and having a name for it that shows how amazing the work we're doing is, and it makes it easier to keep the program running at the level that it does."
Leave a Comment
About the Contributor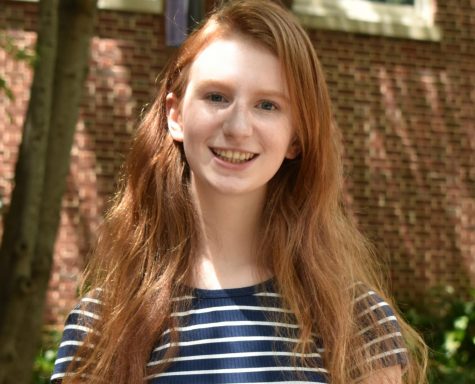 Catherine Opsahl, Lifestyle and Arts & Entertainment Managing Editor
Catherine Opsahl is a junior and is excited to be an editor for A&E and Lifestyle this year. She loves to read and drink tea in her spare time and...