Piedmont Park Conservancy influences Grady community
Sophomore Maggie Opsahl spends many hours at Piedmont Park as a member of Grady's cross country team.
However, like most students, Opsahl doesn't know much about the Piedmont Park Conservancy (PPC), or that it celebrated its 30th anniversary on Sept. 5.
Piedmont Park is an integral part of life at Grady. Students hang out at the park after school just for fun or for their sports teams, (such as cross country or ultimate frisbee) which use the park as practice space. Despite its 30-year existence, students know little about the Conservancy or any of the work it does to serve the park.
"I go to Piedmont Park almost every day for practice," Opsahl said. "I've seen so many signs around the park while I'm running that say, 'Join the Piedmont Park Conservancy,' but I don't really know what it actually is."
Piedmont's clean and safe environment is the result of the PPC's work to preserve the park.
Amy Dietrich, Conservancy spokeswoman, said the private, non-profit organization was formed in 1989 by a group of residents and civic leaders who wanted to prevent the park's decline.
Cross country coach Jeff Cramer is familiar with the PPC and recognizes its influence on the park.
"The park is much nicer than pre-Conservancy," Cramer said. "Many new trees have been planted, and the whole park just looks greener and more inviting."
Cramer also appreciates the secure setting created by the PPC.
"The Conservancy has a security guard who patrols in a golf cart," Cramer said. "We have had Grady parents on the board over the years, and the Conservancy has never limited our (cross country) workouts."
The conservancy has a longstanding relationship with Grady.
"The Conservancy has a positive relationship with our neighbor, Grady High School," Dietrich said. "We have worked on collaborative projects with Grady High School, such as connecting crosswalks."
In addition to crosswalks, which provide students with better access to the park, the PPC has invested over $66 million in capital improvements for Piedmont Park. This includes the Legacy Fountain Splash Pad, the addition of the Piedmont Park Green Market and The Noguchi Playscape. This playground was designed by artist and sculptor Isamu Noguchi with support from the High Museum.
The PPC also offers volunteer opportunities for students. This includes working at the Green Market, acting as a park project ambassador and leading history tours.
"The Piedmont Park Conservancy has a great volunteer program and relies on over 10,000 hours per year from volunteer efforts," Dietrich said. "We encourage student groups and families to get involved by volunteering in Piedmont Park."
The original mission of the PPC was to create a safe and clean space for Atlantans to hang out, Dietrich said.
"The Conservancy works hard to ensure Piedmont Park is a world-class park and resource for the city," said Chris McDaid, the PPC board's vice chairman. "I firmly believe that Atlanta wouldn't be growing like it is, especially in Midtown, without having a world-class park nearby."
McDaid lives in Virginia-Highland, and his family uses the park all the time. They belong to the pool, are frequent tennis players, and participate in Piedmont Park summer camps every year.
"I'm confident that without the Conservancy, Piedmont Park wouldn't be what it is today," McDaid said. "My kids wouldn't have it to play in, and the city wouldn't have it to help drive our collective success and growth as a community."

About the Contributor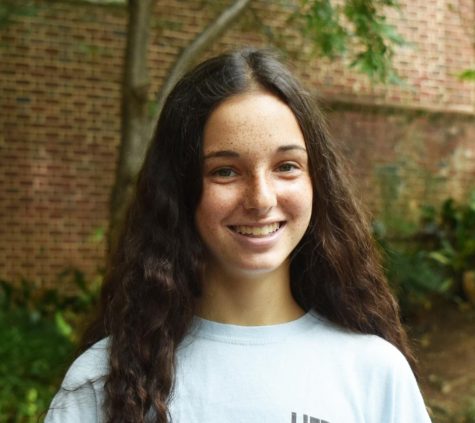 Stella Mackler, News Section Editor
Stella Mackler is a sophomore and and part of the graduating class of 2022. When she isn't writing, Stella can be found playing school and club soccer,...