Art influences transgender transition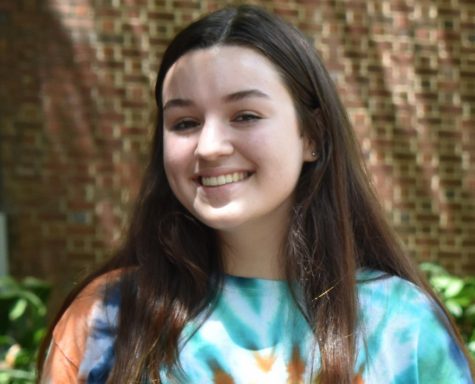 More stories from Ellie Winer
When she was in seventh grade, senior Jamie Gray drew a picture. It depicted someone with a brain that said "female," and a grey slate covering their face that said "male." This was not only sparked the beginning of a big transition, but also the start of a more serious hobby. 
Just like Gray, many transgender members of Grady's community have found an outlet through art as a part of their identity.
Gray is a transgender female who has been in transition since the summer of 2016. Gray started estrogen in early February of 2017. She came out halfway through seventh grade, first only to close friends and family, and then expanding to most of her surrounding community. She was still going by her birth name and using the boys' restroom. 
"It was tough convincing people to take me seriously and consider what I was saying as legitimate," said Gray. "A lot of my family didn't really take it seriously … sometimes, I feel they still don't."
 Along with being transgender, Gray is also an artist. Though she had been drawing from when she could first pick up a pencil, Gray realizes her art really started developing as she became more comfortable in her own skin. Her portraits used to attempt realism, but she became more confident in drawing in a different style.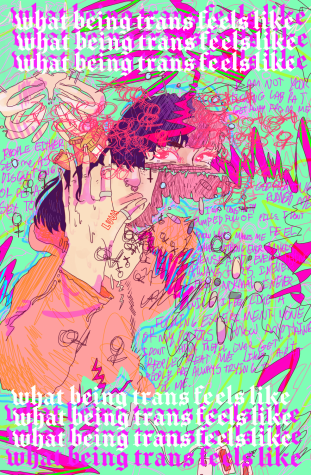 "When Jamie started to transition is when her artistic focus really picked up," said sibling Luna Gray. "Her art began to question gender and focus on it as she began to do the same."
 After starting estrogen, Gray felt things started getting easier. She not only was being taken seriously but felt more comfortable and confident in all aspects of life.
She gets inspiration from many platforms, artists, the human body, and her sibling.
 In her freshman year, Gray received an in-school suspension for placing stickers of her art all around Grady bathrooms. Gray accredits much of her openness to sexuality to her sibling, Luna Gray, who identifies as non-binary. Gray believes they have always been unusually close for siblings, and have bonded over a lot. She has noticed that they never seemed to get annoyed with her. 
Luna Gray is most proud of teaching Gray about gender in the first place.
 "I'm really proud to have introduced the concept to her so that she could eventually understand her own identity," Luna Gray said. "I've also taught her … about social issues, and I've shown her a lot of music, obviously." 
Gray's braveness in "being a girl all the time" is inspiring to Luna, who feels Gray is their coach in terms of being trans. The two have helped each other in many situations. Luna Gray recalls defending their sister in the face of transphobia. 
"I think Jamie's transition has only ever made us closer," said Luna Gray. While Gray is often inspired by anything she encounters, she also makes art to cope. Gray suffers from multiple mental illnesses and often turns to art to cope with them. If she's having trouble getting a specific image out of her head as a result of Obsessive Compulsive Disorder, Gray will draw the image. This often helps her deal with emotions.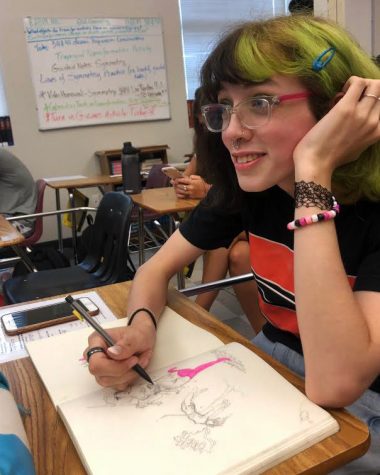 "Even if I don't like how the art turns out, it helps me after I've finished," Gray said.
Luna Gray believes people can take away many things from Gray and her art. 
"I would hope that anyone who experiences her would take away her fearlessness in the face of oppression or unfairness, her anger and the way she has learned to self-soothe, and the way she has created a style of art that is not just healing for herself, but for anyone who cares to understand it," Luna said.
Gray's expression through art has affected her life in big ways. In her junior year, she finally feels confident to present more feminine, show off her tattoos, and not care what others think of her. Gray is proud of her art. She now has a mural in the courtyard. She sells her art as well. 
 There isn't a specific message that Gray wants people to take away from her art. She believes viewers can think anything they want about her work. Usually, she has backstories for the girls that she draws because she doesn't want to objectify women with her art. Gray also enjoys drawing on computers, creating colorful, thought-provoking images. 
"You can call it … vandalism; you can call it a masterpiece; I don't care," Gray said. "[I love] being who I want and not caring. I feel like I'm finally becoming more of the person I daydreamed about at 6 years old."
Leave a Comment
About the Contributor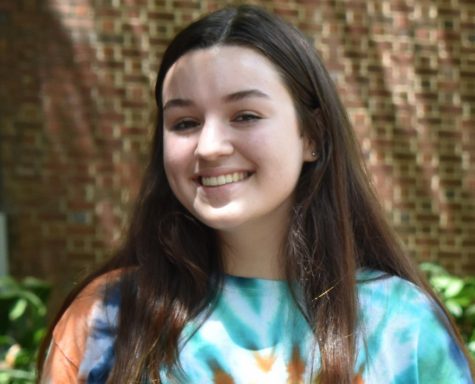 Ellie Winer, Multimedia Editor
Ellie is happy to be a photographer for the Southerner. Besides that and writing for Nexus, she enjoys music, and is a member of the Grady Mock Trial team.