Boys tennis team finishes state runner-up
The boys tennis team advanced to the 5A state championship for the first time ever on May 7, facing a challenging opponent, Chamblee, and falling 3-0, finishing as state runner-up.
The finish is the highest state finish by a Grady team in 14 years. Both the boys track and cross country teams finished as state runner-ups in 2005.
The game shifted to Piedmont Park from the Rome Tennis Center after inclement weather on May 4 led to a postponement. The Knights won a coin toss to host a relocated final at Piedmont Park.
The matches proved difficult for the Knights as Chamblee jumped ahead early in three out of the five matches. Chamblee went up by a set in two singles and one doubles match to hold onto its momentum.
Senior and number one singles player Josh Wolfe lost his first set 6-1 and was unable to recover in the second set producing the same outcome against a 4-star rated freshman, Andrew Pietkiewicz. The loss was Wolfe's first all season.  His final season record was 12-1.
"He was just better than me today, as well as Chamblee," Wolfe said. "Losing happens to all of us eventually, but I'm not happy about the way I lost. I didn't dig deep enough and fight my way back into the match."
With the sun blazing down and Chamblee offering a deep, talented team, the Knights couldn't overcome the score deficit. Senior and number two singles player Jack Stegelman lost his first set 6-2 and his second 6-3.
The number one doubles team, consisting of freshmen Scott Whitley and Teddy Suazo, were no match for the Bulldogs seniors, who completed the shutout win for Chamblee by winning both sets 6-1. This ultimately secured the state championship for Chamblee.
"It shows a lot [being freshmen and playing seniors]," Whitley said. "It shows that we still have a lot of growth to take, and we can play with just about anybody out there, so I say that once we keep going, me and Teddy, especially at one doubles, once we keep growing, we will definitely be a lot stronger next year and the years to come."
Despite the loss, the Knights did experience success with senior and number two singles player Maximus Freightman, and sophomores Colin Stanley and Henry Edmeades at the number two doubles. Freightman won his first set 7-5 and was up 2-1 in his second set when the Bulldogs won their third match to end the game. Stanley and Edmeades won their first set 6-4 and were up 4-3 in their second set when the Bulldogs won.
Chamblee is a team with many options and squad depth, which combined with athleticism beat the Knights. 
"They were deep," coach Val Taylor said. "The number one could have played the number three. The number three could have played the number two. So, they were very, very deep."
Although the Knights faced a tough opponent, the team expect success in the future.
"Still a great season though, and I think this team will pick up where we left off next year," Wolfe said. "We have a couple of freshmen who will take over the spots of me, Jack and Maximus. I think Grady tennis is on the map and [will be] a force to be reckoned with for years to come."
Leave a Comment
About the Contributor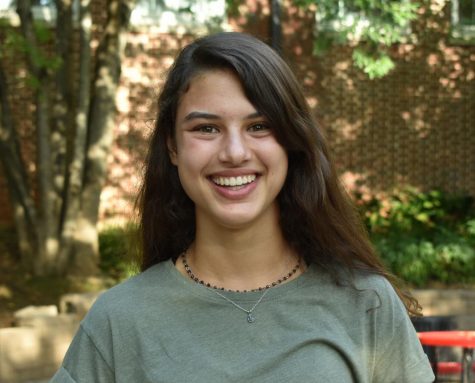 Kaitlin Palaian, Sports Managing Editor
Kaitlin Palaian is a senior and ready to co-lead the sports section to excellence this year. She is excited to be on staff again this year and share what...