Patrick Johnson '01 accepts Athletic Director position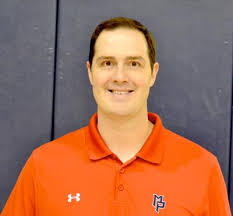 Alum Patrick Johnson '01 will return to Grady beginning next school year as the new Athletic Director. Johnson will replace Coach John Lambert as head of the department, and he will coach the boys basketball team and teach United States history.
Johnson played on the Grady baseball team during all of his for years in high school, worked as Sports Editor for the Southerner his senior year and participated on the debate team.
"My time on the Grady baseball team and the daily practices were great," Johnson said. "I really did enjoy working on the Southerner. Those were some of my most fun times."
Johnson received a baseball scholarship to Duke after pitching and playing first baseman for the Grady baseball team. After Johnson stopped playing baseball at Duke, he walked onto the Duke basketball team and received a scholarship for the next three years.
After graduating with a degree in Political Science, Johnson moved to California with his wife, Meaghan Johnson, and coached Division III and Division II basketball at Claremont McKenna College, Citrus College, Concordia University Irvine and Missouri Southern University in Joplin, Missouri.
In 2016, Johnson moved back to Atlanta to be with family and took a job coaching basketball and teaching United States history at Mount Pisgah Christian School in Johns Creek.
"Just before spring break I found out about an opening at Grady and met with Principal Dr. Bockman, and she offered me Athletic Director and the boys basketball job, and I accepted," Johnson said. "When June 1st hits, I will be done with my responsibilities at Mount Pisgah and will begin working with teams and coaches full time at Grady."
Johnson, who lives across the park from Grady, felt it was time to return to his roots after 18 years
"Grady has such an important place for me in my history," Johnson said. "I think your high school alma mater always means something to you. The opportunity to come back and be a part of the Grady community again, not only as basketball head coach, but also as the head of the athletic department was really appealing.
"The things that Grady stands for and the culture it has and the unique position it has as a school is something I am really proud of," Johnson said. Having been away from it and been in different parts of the country you really get an appreciation for all the things that make Grady such a cool place."
Johnson will not be coaching any Physical Education or Health classes. He has no preconceived ideas of what he wants to alter or improve regarding the athletic department.
"I just want to get back on campus and be around all the students and the coaches and really just see where I can be helpful," Johnson said.  "We have a potential to be important in so many people's lives with all types of sports. I want a well-rounded department so, whether it be tennis, basketball, lacrosse or swim, we are setting up students to have the best experience they can."