Warren shapes 2020 primary with trip to Georgia
Iowa, New Hampshire, Nevada, South Carolina and Georgia.
The Peach State is not often considered one of the first stops on a presidential campaign trail, but that could change soon. With a year to go until the Iowa Caucus, the state that was until recently considered a Republican stronghold has received its first visit from a major 2020 presidential contender: Senator Elizabeth Warren.
Addressing a packed gymnasium at Central Gwinnett High School on Feb. 16, Warren recounted her personal story and discussed many of the issues expected to take center stage in the 2020 election.
On the issue of healthcare, Warren layed out a multi-step plan, promising to protect the Affordable Care Act, lower prescription drug prices and eventually push for "Medicare for All," the controversial single-payer healthcare system proposed by presidential candidate and Vermont Senator Bernie Sanders.
Backing another controversial proposal, Warren expressed support for the Green New Deal, a plan to reduce climate change that has drawn skepticism from many powerful Democrats who claim the deal would be fiscally irresponsible.
Nevertheless, Warren's endorsement of the controversial plan drew applause from the crowd.
Ashlee Cooper, a student at Augusta University, attended the event to hear what Warren had to say about healthcare and student loan debt. She said she was pleased with Warren's proposals, including her call for Medicare for All.
"I was very satisfied," Cooper said. "She's really passionate about higher education … and making sure that everyone gets equal healthcare … I think that's something that a lot of youth are very passionate about."
Cooper, who will be voting in her first presidential election in 2020, is one of the many young voters who Warren and other candidates are looking to win over.
"A lot of the issues right now, whether it be gun violence or climate change, these are things that are really important to the younger generation," Warren campaign staffer Saloni Sharma said. "[Warren] is going to do all that she can to talk to everyone, talk to [young people], make sure she listens to your interests and fights for them, and that's how we're going to make change."
According to Sharma, another key to Warren's success will be her performance in Georgia.
"If you saw all the people in this room, they were so excited to see [Warren] here," Sharma said. "That just goes to show how important the state is going to be."
Warren echoed this sentiment, talking to the crowd about the significance of her early visit to Georgia, a state often ignored by candidates until late in the campaign.
"We are at a crossroads, and the center of the crossroads is Georgia," Warren said.
For Warren and other Democratic contenders, Georgia will be a key state in both the primary and general elections, according to State Sen. Nikema Williams, chair of the Democratic Party of Georgia.
"[Warren's visit] is indicative of what I'm hearing from all of the presidential candidates, that Georgia is not just important in the primary election but in the general election as well, and any path to the White House comes through Georgia," said Williams, who was in attendance at the Gwinnett event.
Williams, who has met with other 2020 contenders, including New Jersey Senator Cory Booker, believes Georgia can go blue in 2020, but says voter suppression may stand in the way. Many claim it impacted the results of the 2018 gubernatorial election, which Stacey Abrams refused to concede to Gov. Brian Kemp, instead acknowledging the "incompetence and mismanagement" of the election.
"Georgia is not a state turning blue," Williams said. "Georgia is a blue state, and we're going to stop the voter suppression tactics to make sure people get the people they rightfully vote for."
With recent allegations of widespread suppression in Georgia, Florida, Kansas and other states, voting rights is sure to be a major issue along the campaign trail.
Warren addressed the topic in her speech in Gwinnett, emphasizing  that voting rights are central to her campaign and promising to "get rid of every one of these voter suppression laws."
Warren ended her speech with a call to action, urging the crowd to "dream big, fight hard and win."
Before she left the stage, Warren told the packed room she would stay for pictures with anyone who wanted.
She held true to her promise, spending valuable time in what is sure to be a crucial state in the 2020 presidential election.
Leave a Comment
About the Contributor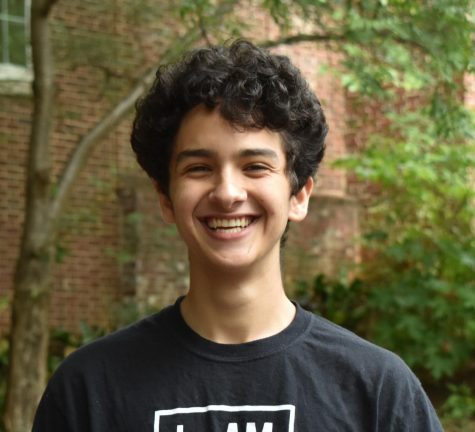 Royce Mann, Writer
Royce is a Senior in his second year at Grady. He is a member of the Grady Governance Team and is the President of Amnesty International Club.