Cheerleading, more than just a sideline sport
Each fall, in nearly every high school in America, Friday nights comes to life. Crowds of students, parents, and athletes decked in gear and spirit wear flood stadiums to show support for their football team. However, the real enthusiasm stems from the group of girls on the track: the cheerleaders.
"A lot of people discredit cheer as [not] being a sport,[but] cheerleaders work hard, if not harder than other sports," said junior Jaravia Rabon, who was a cheerleader as a freshman. "Commitment goes into everything we do."
The cheerleaders spend, on average, around 21 hours practicing or cheering at games during the week, according to senior cheerleader Lily Shevlin.
According to sophomore cheerleader Shawn Gillespy, cheer takes place almost every day with either a practice or a game. When basketball is in-season, there are usually three game sets (boys and girls game) a week: two games Tuesday, Friday and often Saturday. Practices last from 3:45 p.m. to 6 p.m. and games can last until 11:00 p.m., depending on the location. A girls' game will usually start at 6 p.m. with the boys' game following at 7:30 p.m.
Varsity basketball and football player, junior De'wan Wright agrees that "cheerleading is such a big commitment."
The cheerleading season is almost year-round. It incorporates the football season and the basketball season, plus additional practices in the spring for competitions and practices over the summer. These consist of conditioning, and cleaning up different stunts, motions and tumbling for competition.
"We honestly have a longer season than any other sport at Grady," Shevlin said. "We are going from May to February and maybe March and people don't really understand that. "
Cheerleading and the amount of work it entails is often undervalued.
"People kind of push it [the work we do] to the side like 'oh they go to the football games," Gillespy said.
The big time commitment and work can make being a cheerleader difficult.
"Being a cheerleader takes so much time and dedication," Rabon said. "Most of the time, you really don't have a social life and it can be difficult balancing school work and grades because of practices, competitions and games."
Misconceptions about the sport extend beyond the season's length. Not only is cheerleading a huge time commitment, it also involves talent and strength that many fail to notice.
"It is similar to football," cheerleading coach Shea Smith said. "We have to lift people up, and it requires strength and a certain mentality."
Although not a contact sport, cheerleading is dangerous.
"I am a flyer, so I get thrown in the air most of the time, and when they are throwing you in the air, if they don't catch you, you are going to fall, you could break something, you could hurt yourself like really badly," Gillespy said. "Also, with tumbling, we do a bunch of flips and everything. If we are doing that on the track or the basketball court, it is definitely dangerous and a lot of people get concussions and stuff from it."
In order to ensure the girls are safe they "practice stunts the first time with the basics and then gradually move up from there," Smith said.
Cheerleaders' commitment, risk, need for strength and positive mentality raise the question as to why anyone would not consider it a sport.
"Some people see the work we put in and some people don't," Shevlin said. "Lots don't think we do anything but I put in so many hours and have to go to every game just like the players do."
However, the negative attitudes towards cheerleading in the athletic realm stem from the conventional images associated with cheerleading.
"I feel like there are a lot of stereotypes in movies that are like 'cheerleaders are dumb and the head of the school,' but I don't think that is really a thing, at least at our high school," Gillespy said. "I think a lot of our cheerleaders are smart and are in like AP classes and stuff. I don't necessarily think there is a popular stereotype with cheer."
Despite stereotypes and commitments, many have found benefits of cheerleading.
"It's more of a team sport, so everybody is working together toward this one goal," junior cheerleader Asha Lynch said. "All the work that goes into it, and then seeing the final product, when it turns, out is what I like about it."
Many feel that cheerleaders deserve more respect for the hours and effort behind the scenes of the sport. The constant pep and long hours of games and practices should not go unnoticed.
"Cheerleaders are some of the strongest people you'll ever meet," Rabon said.
Leave a Comment
About the Contributor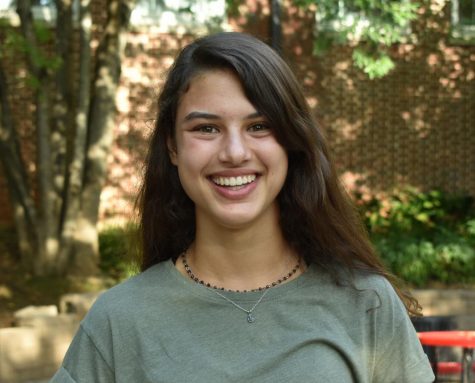 Kaitlin Palaian, Sports Managing Editor
Kaitlin Palaian is a senior and ready to co-lead the sports section to excellence this year. She is excited to be on staff again this year and share what...