Wrestling team resurrected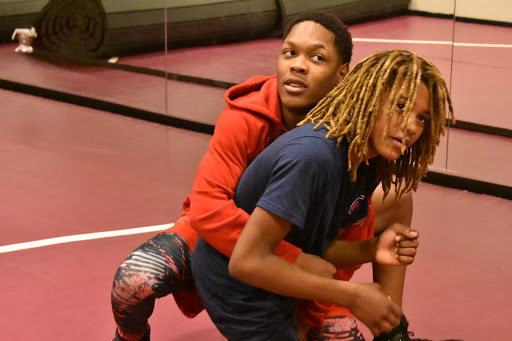 Two years ago, the wrestling team fell apart after only one season when the team couldn't find a coach. Two months ago, a new team formed.
After nearly a dozen students requested a team from the athletic department, coaches Joshua Crowder and David Bunker, both college students and volunteers, agreed to restart the team.
"As we were told about the opportunity to start the program, we were told that there was an overwhelming response," Crowder said.
Bunker's mother is involved with the athletic department since his younger brother is a current Grady student. When she heard there was interest in a wrestling team, she reached out to the husband of a colleague, Crowder.
Both Bunker and Crowder have eight years of scholastic wrestling experience, but this is the first time either have coached.
"It's different being on the other side of that, trying to build a team from scratch," Bunker said.
Both coaches are current college students. Bunker is a junior at Georgia State University, and Crowder is studying photography at the Savannah College of Art and Design Atlanta. Crowder spent time in San Diego, Calif. with the U.S. Navy and looked for a position as a school coach while stationed there, but he had no luck until moving to Atlanta.
"Coming here and being given the opportunity has been really fulfilling, and I'm honestly just really glad to be back on the mat, practicing and teaching the moves to a younger generation," Crowder said.
The team's current roster has eight athletes. Some students wrestle independently, while others use wrestling to reinforce their skills for other sports. Freshman Jakari Christian originally joined the team because his football coach requested he get stronger, but he enjoys it as more than a winter season supplement.
"We have amazing coaches helping us with new skills everyday," Christian said. "They also make the game of wrestling interesting and fun."
The coaches' ages may give them an advantage in terms of connecting with their athletes. Neither have been out of high school for more than five years.
"It's definitely interesting being older, to where the athletes still see us as adults, but young enough to be able to understand their jokes," Crowder said. "Maybe not find it funny, but definitely understand it."
Practices run two hours Monday through Friday. They start with warmups, then teach new techniques and review old, and end with conditioning.
"Wrestling is a sport that, contrary to popular belief, is less about brute strength and more about technique," Bunker said. "Wrestling is a sport that requires a lot of moves, a lot of mental acuity, and to get to a point where you can add technique in with your strength is a work in progress, especially for newbies."
The team may be a work in progress, but three of the four athletes who attended the Buford High School varsity invitational tournament on Dec. 14 and Dec. 15 advanced to the second day, meaning they won both matches the first day. Malic Henderson advanced to the consolation quarter-finals. Bunker thought the team did "really well, considering."
"It was just something for us coaches to be proud of, honestly," Bunker said. "At this tournament there were 32 teams, and it was a varsity tournament, and yeah, we're a new team, and yeah, we enrolled them into a varsity tournament, which might not have been the best idea, but it worked out because they did fairly well."
Not everything has gone smoothly. For one thing, wrestling faces competition from some other sports, such as football, soccer and basketball.
"There's not a professional wrestling league," said freshman and student medical aide Tatum Dutton. "You can wrestle in college, and you can be a coach, but there's not an NFL for you to go into; so, it's not a very popularized sport that people watch."
But in Bunker's experience, schools provide more support than Grady currently does. When he wrestled in middle school, he had access to a wrestling gym that could hold about 50 people. The Grady team practices in the dance studio, which presents several problems.
"The walls on the window side are basically just plaster, so we have to be careful about that – not to kick any holes – and of course the walls on the other side are mirrors," Bunker said. "Typically, wrestling rooms would have neither of those because people are being thrown around."
Also, the coaches cannot control the room's temperature. Often, wrestling rooms are kept at about 79 degrees to encourage athletes to sweat and lose water weight. The room's size is not ideal, either.
"It's working as much as we can," Bunker said. "It's small, but we still have a small team, so it's okay.
The team hopes to grow in future years as it gains more recognition.
"I believe if we actually win a state championship, or get close, people will get interested and want to join also," Christian said.
The coaches have no intent of leaving anytime soon. And when, or if, they do, they intend to leave the team in good condition.
"I still have several years of college left and I am thoroughly enjoying coaching, so if at any point I do leave, Grady will have a full wrestling team and it will be in good hands," Bunker said.
View Comments (1)
About the Contributor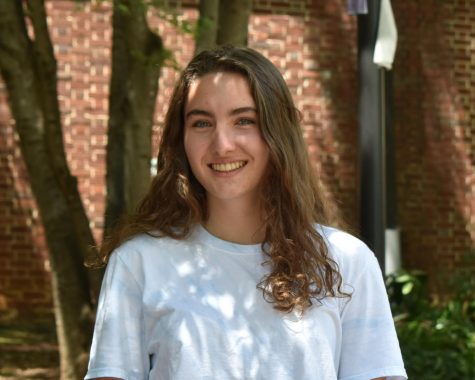 Katherine Esterl, Co-Editor in Chief
Katherine Esterl is a senior. She spends her time rehearsing plays, building houses and watching Frasier.



Contact

[email protected]