'It's Knitting Season': A trend hits students
It is common for teachers to have to tell their students to put their phones, earbuds or books away. It's less common and, frankly, unprecedented for teachers to have to tell their students to put away their ball of yarn and knitting needles. Nevertheless, teachers, specifically those who teach juniors, may have to implement new rules about knitting in classrooms to accommodate for the growing trend.
"I think it just sparked and everyone was like 'I know how to knit' and then they are like 'wait, that's cool' and then they are bored in school and they want to look cool at school and then they knit," Junior Mia Prausnitz-Weinbaum said.
Teachers have begun to notice this new habit of many students.
"I don't think it's bad," said AP Spanish teacher Lilliana Ortegon, who has asked students to put away their knitting due to its distraction. "[In school] is just not the right place to be doing it."
However many students have taken up knitting in school as a way to relieve stress as well as make meaningful connections.
"I think it's relaxing and it's just something to do and you can also gift it to people," said junior Sarah Likins, who started knitting in second grade and recently rekindled her habit along with many Grady students.
Senior Bea Porges took up knitting after seeing someone knitting in her AP Psychology class.
"Over the break I told my mom I wanted to try knitting so she brought out her old needles and she taught me how to knit a scarf," Porges said. "I started Friday night and finished Saturday night it took all 24 hours. [Knitting] is definitely gonna be everybody's Christmas present."
Porges admitted to hoping the trend won't become too popular because she doesn't want to get in trouble for knitting in class or have other students point it out.
The recent knitting fascination isn't limited to students. Art and fashion teacher Valerie Williams crocheted a scarf and hat for the winter months. She coined this time of the year 'knitting season.'
"I have been knitting since I was five," Williams said.
According to Williams, knitting is good hand-eye coordination, and claims it helped her older children learn how to play instruments, like the saxophone. She allows students to knit in class while they are doing their work.
"I have one student who is knitting scarves for the homeless," Williams said. "She knits scarves and she leaves them around trees that say 'take me.'"
Leave a Comment
About the Contributor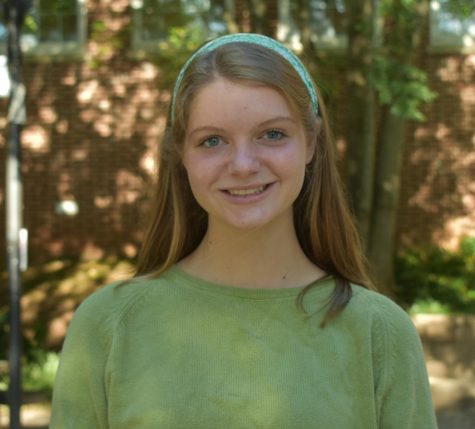 Charlotte Spears, Co-Editor in Chief
Charlotte Spears is a senior and the co-editor-in-chief of The Southerner. When she is not working on the newspaper and website, she is playing varsity...