Alum Eddie "Levi" Lee inspires students
The Black Box Theater was transformed to look like a diner, equipped with a jukebox and authentic booths, for the Grady High School performance of "Waffle Palace." The playwright and alum, Eddie "Levi" Lee, sat in the front row for the Friday night performance and watched his play come alive on the very stage he once performed on.
Lee discovered his passion for theater while he was a student at Grady and a member of the early years of the drama club. He said one of his favorite parts was putting on the first Senior Play that was ever produced, thus beginning a school tradition. Although he was involved with many  extracurriculars like track and field, he ended up following through with theater later in life.
"The joy I had in performing here [at Grady] and creating original stuff, it also helped me become a playwright," Lee said.
That being said, Lee didn't always know that he wanted to pursue theater. There were moments in his career when he wondered if he was making a practical choice following his passion for theater instead of having what he called "grown people jobs." But for Lee, it was all about the integrity of his art, and that's what helped him develop his philosophy of life, "Life without risk is doo-doo."
"Art is all about risk," Lee said. "Drama's always a risk because you've got another character, the audience, that comes in and you don't know how they'll act. I just wanted to do the work."
Lee's go-getter attitude has proven successful in his career. Other actors wait around for a call, but that has never been his style. Lee started his own theater, The Southern Theater Experience, to produce his plays when no one else was picking them up, and that's how his work got noticed.
"My huge philosophy is you can't let it come to you," Lee said. "There are actors who don't act until they get the phone call. Like Picasso wouldn't paint unless he got a phone call to paint. Actor-artists have to keep working. And if they don't get a part, they'll create it."
He used that mentality when co-writing, "Waffle Palace," a comic play written based on the crazy and sometimes true things that happen at a Waffle House at 3 a.m. Lee and Larson model their plays after the rollercoaster of life, with one moment completely serious and the next incredibly humorous.
"They have a very distinctive style, and I really like that style because it's a little dark and zany and slightly off-kilter and that appeals to my sensibilities," said Lisa Willoughby, English teacher and director of Grady's production of "Waffle Palace."
According to Willoughby, there was a combination of factors that led to Grady drama putting on "Waffle Palace," but the fact that Lee is a Grady alum definitely contributed to that decision.
"Knowing Mr. Lee, playwrights can be people that you just know, and I think that that's great for kids to realize that you can make a life in the theater if that's something you really want to do and that they can imagine themselves into that world," Willoughby said.
Grady students performing in the show also shared this sentiment. Sophomore Erin Taylor, who played Connie, said that it was both exciting and nerve-racking that someone as distinguished as Lee watched their performance.
"The theater is such a hit or miss when it comes to having a successful career, so knowing that Mr. Lee, a Grady alum, has made a successful career in the theater world is really inspiring," Taylor said. "Maybe one day I'll follow the theater path as a career in the future."
However, Lee doesn't see himself as an inspiration. He just sees himself as someone who has a passion and a story to tell.
"I'm not a wealthy man and I'm certainly not a famous man, but I have spent the past 45 years doing nothing but what I like to do and that makes me feel pretty rich," Lee said.
Leave a Comment
About the Contributor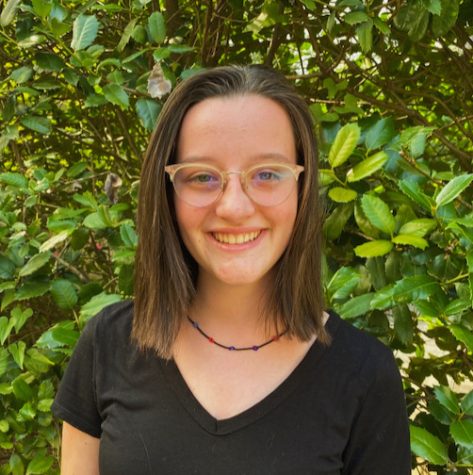 Dana Richie, Co-Editor in Chief
Dana is a senior who loves using her voice to tell other people's stories as well as share her own views. She really enjoys writing for the Southerner...