Atlanta United sets high expectations in second year
Atlanta United's inaugural season last year gave the team the start it needed to become one of the best clubs in the country this year. Eastern Conference Champions and likely National Champions, the city of Atlanta has a lot to celebrate. While these accomplishments and projections are great, the bar for future seasons is both high and potentially difficult to live up to.
Star striker Josef Martinez earned the MLS Golden Boot after finishing the regular season with 31 goals. He smashed the single-season goal scoring record previously set by Bradley Wright-Philips in 2014 (27). It only took Martinez 54 matches to reach 50 goals since joining the club.
Alongside Martinez is last season's MLS Rookie of the Year, German Julian Gressel who ended the regular season with 12 assists, the second most in the league. United's Number 10, Miguel Almiron, finished the regular season with 12 goals and 11 assists according to mlssoccer.com.
Almiron is currently being eyed by English club Arsenal FC, and even though a move to a huge club like it would be good for his career, it would be a lifesaver if he stays. He's the Number-10, a fan favorite, soon to be a world class player. Even though his exit is only rumored, it would make sense for a young player of his talent to pursue higher wages and a bigger club. Along with astonishing speed, Almiron combines incredible vision and accuracy to leave him virtually untouched while on the ball. If United lose him, the team would surely see a decline in success.
Atlanta United's defense looks keen to stay where they are, as no transfer rumors have surfaced among them yet. However, captain Michael Parkhurst and star U.S. Men's National Team (USMNT) goalkeeper Brad Guzan are 34 years old, and their time in the sport is coming to an end, despite their quality.
Outside of the teams' talented individuals, Atlanta United's squad blends perfectly together, able to show off a beautiful attacking-style of soccer. The reason for this is the impact of coach Gerardo "Tata" Martino, who previously held coaching positions at legendary club FC Barcelona and with the Argentinian National Team. His experience makes him extremely valuable to the team, and it's sad to hear he's not signing a new contract at the end of the season in wake of an offer from the Mexican National Team. This is the main reason United will be unable to live up to their expectations in coming years, as his managerial style was at the heart of the team's success. He also won MLS Coach of the Year this season, just adding to his list of accomplishments.
Atlanta United is widely viewed as the best club in the country, and being named favorites to win the MLS Cup plus a dominant performance in the Eastern Conference Finals against the New York Red Bulls (3-1 on aggregate) proves exactly that, for now.
In the first-leg match of the Eastern Conference Final at home, the Mercedes-Benz Stadium lit up, fans coming together to display a "tifo" or a special choreography in the stands. The tifo made national sports news and consisted of the 70,016 fans holding up bright red, black, or yellow wrapping paper, coming together to spell out "Vamos ATL" in the bottom sections. The top sections came together to show off the classic red and black stripes worn on home jerseys.
Since its inception last year, United set and broke and set again the MLS single-game attendance record at 72,243. It's obvious Atlanta has the fans needed to urge the team on during home matches, and the club even has a dedicated small group of traveling fans. Fortunately, the fans' dedication does not look like it will let up any time soon.
Atlanta United's success has only grown since its inaugural season last year and it's finally a sports team Atlantans can be genuinely excited about. With a National Championship looking more likely as time goes on, the city is gearing up for an exciting December. However, the team set high expectations for its future, and living up to them could be a challenge.
Leave a Comment
About the Contributor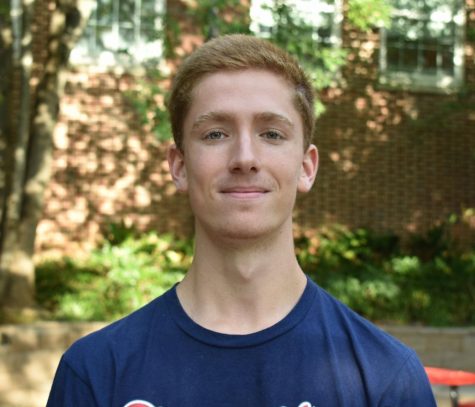 Elias Podber, Sports Managing Editor
Elias Podber is a senior this year and is excited to co-lead the sports section of the paper to new heights. He is captain of the cross country team and...