AP Art students showcase work on Beltline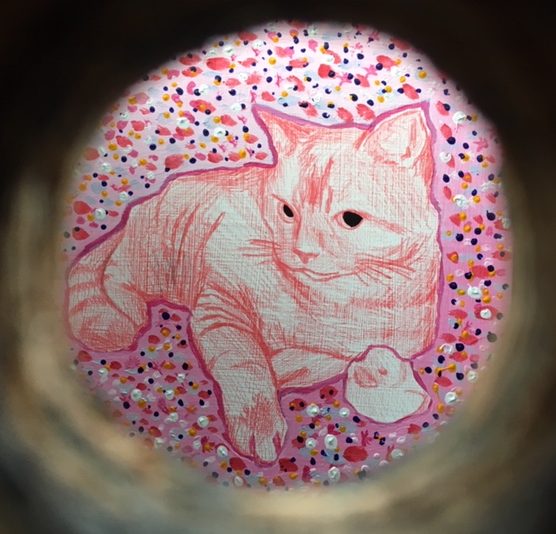 Most students are familiar with the art lining the BeltLine, from expressive murals to metal works of skeletons to interactive and multimedia sculptures. Now students can see art from their peers there, too.
The "Individually, We Are" exhibit puts Grady's Advanced Placement Art students' art on the BeltLine as part of the #725Views rotating art exhibit. It is located in front of the 725 Ponce construction project by developing company New City. The display resulted after New City's creative project manager Gerlinda Grimes contacted art teacher John Brandhorst requesting students' participation.
"Since college, I've worked with a good number of "established" artists, and while they are also passionate about their work, I've always remembered that particular light and energy I felt coming from the student artists I worked with, who were just beginning to discover their voices," Grimes said. "The mission of the #725Views exhibit is to promote emerging local artists. … We all fell in love with the thought of opening the application process to student artists."
"Individually, We Are" uses a display method known as viewfinder art: passersby look through holes in wooden boxes to see the art. The pieces shown rotate every two weeks, showing a different students' piece in each of the three different viewfinders.
The students' art can be 2D or 3D, which expands participants' options for the project. Other than requirements that the art be appropriate and "suitable for a public audience," students have completely free reign over their creations.
"The interesting thing is, we usually only do 2-dimensional work, and we have this box," Brandhorst said. "What I'm inviting my artists to do is to make a 3-dimensional version of it, so that when you look inside, it's kind of like a diorama, you know, something more like that. It begs it almost. But I've left it to the impulses of the artists, so they can make it however they want it."
According to Brandhorst, many students were excited at the prospect of having their art displayed so publicly. One such student was junior Zoe White, whose art was in the first rotation put on display.
"I thought it was a very huge opportunity for me, and I was super excited about it," White said. "I love the art that's already on the BeltLine, so to be a part of that was very special. This year I've been getting into other stuff outside of school … I've been getting into other art projects, but this is the main one I've done outside of school."
Many involved in the exhibition believe giving high schoolers the chance to put their art somewhere such as the BeltLine is important and allows them to expand their horizons, along with preparing them for the real world.
"I think it's important to allow people to have their work on display," senior Shamayam Sullivan, another AP art student participating, said. "For high school students, it allows us to get more in the business, to get our names out there, and I think that's amazing. Any shot is worth anything."
The "Individually, We Are" exhibit is a major opportunity for the art program and participants in it.
"It's incredibly validating to have the outside world reach in," Brandhorst said. "I'm very proud of an organization that has those opportunities coming along regularly."