Teachers reflect on interesting past careers
Nicolai Curtis's dream of working with animals began at a young age when he visited the Frankfurt Zoo in Germany, where his father was stationed in the military.
"I literally told my dad, 'I want to be a zoo keeper,'" Curtis said, remembering the day he set a goal that would eventually become a career.
As a reptile keeper for four years at the Atlanta Zoo, Curtis learned valuable skills and had memorable experiences. Now a science teacher at Grady, Curtis is one of the school's many faculty members who enjoyed interesting careers before teaching. He says this job helped him find success in the classroom and is even a reason he got hired by Atlanta Public Schools (APS).
"They wanted teachers with real world experience," Curtis said. He continues to use examples from his four years at the Atlanta Zoo to show students "where the knowledge is useful."
This is a sentiment shared by art teacher John Brandhorst.
Growing up in Grand Haven, Michigan, Brandhorst enjoyed a variety of physical activities early in life, including windsurfing, gymnastics and cheerleading. He says these talents helped him in his career after college.
"The cheerleading and gymnastics allowed me to be in performance groups," Brandhorst, who has taught at Grady for nearly 20 years, said. "I was in a Salsa dancing troupe, a Hula dancing troupe and what's called Butoh dance."
Change was a constant in Brandhorst's pre-teaching life. He moved around the country to cities that included New York, Los Angeles and Seattle. He worked as a sign maker, restaurant worker, 'roadie' (someone who helps set up equipment for a touring band) and camp counselor. He even spent time in Italy. 
Like Curtis, Brandhorst has benefited from his wide breadth of experience.
"I'm very glad that I didn't go right into teaching," Brandhorst said. "It makes it a lot more fun to be a teacher with a lot of experiences."
Social studies teacher Mary Van Atta agrees.
As a museum educator, Van Atta learned useful skills that come in handy today.
"Writing professionally and using the professional language of education — I was able to start doing that when I was working in the museum field," Van Atta said.
Her roles as a museum educator at The Wren's Nest Museum in Atlanta and the Atlanta History Center share many similarities with her teaching job. However, Van Atta says there are some distinct differences between the jobs.
"First of all, the pay in teaching is better," Van Atta said.
Along with the difference in salary, Van Atta says she started teaching because she wanted to work more with students, especially those in high school.
"I feel like I reach more kids than I did when I was working in museum education, and particularly older kids," Van Atta said. "A lot of older kids don't get to take as many field trips, certainly not to the museums I was working at."
While both Van Atta and Brandhorst say they are happy in their current roles at Grady, they also encourage students to consider trying out multiple careers or jobs.
"Don't settle down too fast," Brandhorst said. "See the world. Meet lots of people."
Van Atta also believes in experimenting with many career paths in life.
"You don't have to get out of high school knowing exactly what you want to do with the rest of your life," Van Atta said. "Having a lot of different jobs not only gives you the opportunity to sample and hone in on what you're really interested in, but it also gives people a life appreciation."
View Comments(1)
About the Contributor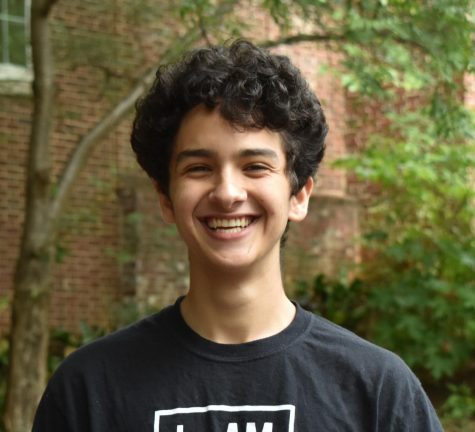 Royce Mann, Writer
Royce is a Senior in his second year at Grady. He is a member of the Grady Governance Team and is the President of Amnesty International Club.