Ross uses talents outside of teaching
Jermaine Ross has taught high school math for the past 15 years. Football memorabilia lines his walls and photos around the room show memories with his family. But there's one thing that his walls do not hint at: his secret talent for play-writing.
"If I overhear a conversation, or if I accidentally eavesdrop on two people having a really passionate argument, I will start writing away," Ross said.
Ross grew up in Memphis, Tenn. and played football throughout high school and at Delta State college. Ross acted in the spring musical every year in high school and also wrote and directed plays through college.
"I won first place in the 1999 and 2000 Mississippi Community College Creative Writing Association's contest for playwriting and short story," Ross said. "I directed plays when I was a senior in college. I started an acting group with a group of students my junior year. After I graduated college, I worked at a community theatre, and I did plays like 'Dreamgirls."
Ross is in his seventh year at Grady. In his second year of teaching, Ross held a reading of his play "Slum Beautiful," in Grady's Black Box theater.
"Grady has helped a lot," Ross said. "The graphic design on the cover of 'Slum Beautiful' is actually a painting by a former Grady student."
During the reading, Ross welcomed feedback. The reading consisted of nine actors sitting at stands with scripts.
"I find it super fascinating to find out that different teachers have these secret lives where they actually do something kinda strange," sophomore Tess O'Donnell said. "When I found out that he was into playwriting, I was so surprised since he does not show a ton of emotion during the school hours."
The stereotype for teachers is that school is their whole life. Ross manages to break this stereotype and surprising every one of his students.
"I thought that it was interesting that in our first day, he explained all of the students he had that were professionals in sports, but then he comes up later explaining that he writes plays," O'Donnell said. "It literally came out of nowhere."
In February, Ross began writing a romantic comedy about a Fifth Harmony-style pop band that has a headstrong lead female vocalist.
"The overly controlling lead vocalist is semi-replaced with an eccentric male singer who she hates, but the guy is a musical genius, and her band members and her record company all love him, Ross said. "To them, he can do no wrong."
Ross comes across as quiet to his students.
"I had him as a teacher my freshman year, and when I first met him, he seemed soft spoken and very knowledgeable," junior Emily Schultz said. "I learned that along with these characteristics he does playwrighting which is really interesting and shows how he is insightful and intelligent."
Music, celebrity gossip, news articles, and people watching are Ross's muses.
"Inspiration comes from everywhere," Ross said of his motivation to create his plays. "They all are living documents of where I was as a person and as a writer at that particular point and time."
Leave a Comment
About the Contributor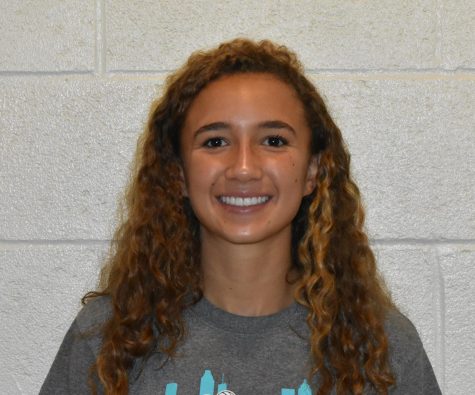 Lucy Bertsch, Writer
Lucy Bertsch is a first year staff member on the Southerner and a junior in the graduation class of 2020. She is excited to join the staff, hoping to add...