Walker makes moves in Big Apple
Tyrius Walker is on the brink of making his dreams come true with the New York Knicks. The 6-foot-1-inch guard who played Division II at Morehouse College is the second player in Morehouse history to play in the National Basketball Association (NBA), behind Harold Ellis.
After graduating from Morehouse earlier this year, Walker, a 2014 Grady alum, turned heads this summer in Las Vegas at the NBA's Summer League. In his limited playing time, he averaged 6.3 points, two assists and 1.7 steals per game over the course of three games.
"[The summer league] was definitely a tough time being the underdog," Walker said. "I didn't really get that much playing time, and the coaches told me to just be patient and my time will come, so that's what I did. I was just going hard in practice and when it came down to that last game, I showed them what I could do and that definitely helped me out at the end of the day."
Against the New Orleans Pelicans, Walker exploded for 16 points, 6 assists, 5 rebounds and 5 steals.
Against the Pelicans, the Knicks had 19 out of the 20 maximum players for training camp. On Sept. 19 New York added Walker as the 20th player after he went undrafted in June.
After playing in one preseason game on Oct. 1 against the Washington Wizards, Walker hit a free throw as the Knicks won 124-121 in overtime. New York cut him on Oct. 2, but he signed with G League affiliate team, The Westchester Knicks, a team located in suburban Westchester County north of the Bronx.
Walker's Exhibit 10 contract gives a player a $50,000 bonus for signing with a team's G League affiliate, if the player was waived by the parent club. If a player is waived by Oct. 17, they must report to the G League by Oct. 20 and remain there for 60 days to receive this bonus. On the first day of their regular season, players under an Exhibit 10 contract can now have their contracts, converted to a two-way contract but they will no longer receive their bonus.
Knicks' players welcomed Walker, encouraged him and offered advice.
Knicks point guard Trey Burke told Walker "to basically just stay patient," Walker said. "You just gotta trust the process. He was telling me the process he went through was the same one, so it's just like you gotta learn and get comfortable to where you know you can compete and have confidence in yourself."
Even Knicks coach David Fizdale offered encouragement to the rookie.
"Coach Fizdale told me basically like 'you are going to be the point guard, too. Don't limit yourself, and just stay positive and have fun,'" Walker said. "In this game, that is all it is about."
Walker's talent and humble demeanor began at Grady where he excelled. He proved helpful to the Knights helping the team his sophomore year under former Grady basketball coach, Douglass Slade, to make it to the state Playoffs and make it to the Sweet Sixteen his junior and senior year under coach Brian Weeden.
"I was fortunate enough to coach him and I was just thinking that in all my dealing with him, he was a young man of great character who was intelligent and very talented," Slade said. "He was one of the hardest working student-athletes that I worked for in all my 33 years at Grady."
Walker struggled at first after Slade's retirement, adjusting to Weeden's coaching system, which demanded the most out of the promising guard.
"Coach Weeden was a struggle at first to get adjusted to his playing style because he was the one that kept my head on straight and opened my eyes about playing at the next level," Walker said. "He made sure I was good on and off the court and was just a voice in my ear through the whole recruiting process and just always kept it real with me. He humbled me when he didn't let me get my way."
Weeden took a different approach to coaching Walker focusing on life as well as basketball.
"He told me that it is going to be a rough time in my life — to where it is not going to go my way and just grind and focus on what you need to work on and focus on nobody but you," Walker said. "That's what is going to pay off at the end of the day."
One of those rough times came when Walker was looking to commit to a college.
"I was about to commit to Jacksonville University, but the coaching staff got fired, so they kind of never told me until late notice," Walker said. "It is every kid's dream to go D1 (Division 1), and I felt like since I didn't go D1 that I was inferior, and so I just thought about quitting basketball because I felt like I didn't belong anymore."
Weeden and coach Grady Brewer from Morehouse convinced Walker to continue his basketball career. He gave Morehouse, which eventually propelled 1988 Douglass High School grad Ellis to the NBA, a shot.
"That is when coach Brewer from Morehouse told me 'man it's not all about D1,'" Walker said. "'You can make it from anywhere, and I am going to put you into a position to where you are going to make it.' He was like 'if you trust me, you are going to be a pro basketball player.'"
At Morehouse, Walker lead the Southern Intercollegiate Athletic Conference in scoring average with 23.7 points per game. He was named the SIAC Player of the Year, making the Division II All-South Region Team. Walker was also named a National Association of Basketball Coaches All American, and he was a member of the All-District First Team.
Walker made his mark in high school and college and is now ready for the professional level.
"He is a NBA pro, and you haven't heard the last of him," Weeden said. "His story is to be continued."
Leave a Comment
About the Contributor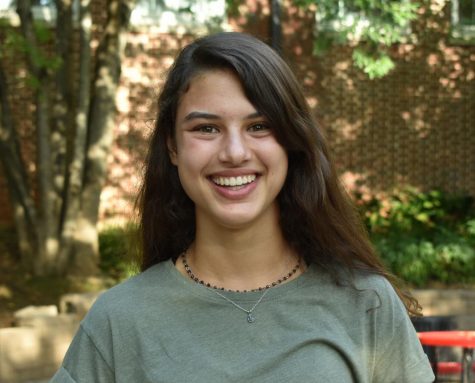 Kaitlin Palaian, Sports Managing Editor
Kaitlin Palaian is a senior and ready to co-lead the sports section to excellence this year. She is excited to be on staff again this year and share what...