The Beehive gives local artists outlet for works
Authentic. Handmade. Local. These are the driving forces behind The Beehive's success.
In 2010, Malene Davis brought her dreams to life and opened The Beehive. At the Beehive, the local color is bold prints, unique accessories, and southern treats with a twist. It showcases the sustainable creations made by nearly 100 local artists. The collective of so many artists helps not only the owner, Davis, but many more individuals.
"The Beehive enables those with a creative passion and entrepreneurial spirit to make their dream a reality," said store manager, Mariama Davis, sister of the owner.
The Beehive's vision is bringing artists together to create a culture of shopping and buying locally.
"We believe that we all can get our own piece of the pie and that happens when we share our information within our bee community," said Davis.
The Beehive helps designers grow their brand and share business knowledge with frequent meetings and advice. The owner of Crafts and Love, Courtney Weil appreciates that at The Beehive, she is given power and space to grow her business any way she wants.
"This freedom is unparalleled in other more traditional stores who do not run on the co-op model," Weil said. "I am given a space to try out new ideas and immediately see a response from customers."
When you step into the store, a bright and airy atmosphere greets you. The wall and table layouts invite you to take a look around. The smells of vanilla and lavender waft around the store, hiding in every corner. Everything is tastefully designed, with place cards telling you who made what.
"For the community, it provides a space that is open daily that you can directly purchase from nearly 100 local, small businesses, which can be hard to find elsewhere," said Weil.
First time customer Meredith Francis' favorite things to purchase are baby clothes, soaps, and unique items that reflect all parts of Atlanta. Francis also enjoys the hassle-free environment of The Beehive.
"It's a great place for local artists to have a stall that's there permanently, and that people can go find them without having to deal with festivals," said Francis.
The vibe of The Beehive is what draws customers in.
"We want you to feel at home everytime you shop – we love creating a comfy atmosphere," said Davis.
Shopping is not the only thing you can do at The Beehive. Part of their mission is to connect the community to the arts. Whether you want to learn how to make body butters, enameled jewelry, or leather handled totes, The Beehive is has programs to help. They encourage Atlantans to find an outlet to unleash their creative side.
During the past eight years, The Beehive has helped artists like Weil and intown Atlantans to be creative and shop local. Customer Patty Elder keeps coming back for jewelry, fun shirts, cards, and candles. While Elder enjoys shopping at The Beehive, she also thinks it's valuable to the community.
"It helps local artists, keeps it intown, groovy, special, different, not so all the same," said Elder.
Leave a Comment
About the Contributor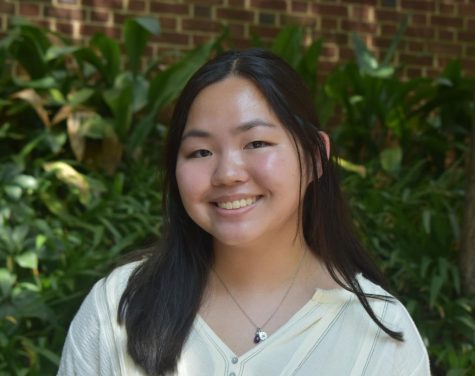 Yei Bin Andrews, Co-Editor in Chief
Yeibin Andrews is a senior, and this is her third and final year writing for The Southerner. She is currently a Co-Editor in Chief. She is excited for...