Dakota J's style appeals to all ages
The vibrant colors in the store windows of Dakota J's catch your eye immediately. Located in the trendy neighborhood of Virginia Highlands, the store is destined to attract new customers.
"Our clothes appeal to women ages 13 to 100," said store associate Trina Labenski. "We sell clothes that are hip, modern, and trendy."
The store's customers range from immature middle school students with ever stained clothes, to the last minute high school homecoming gets, and finally to the trendy neighborhood moms looking to spruce up their wardrobes. Being a family owned business, Dakota J's makes sure to have something for all ages.
"We're always hoping for more people to shop in our store than online," Labenski said. "We always try to make our store the homiest we can by having great customer service, and we are always racking in new items, plus we are dog friendly."
After being founded in 1996, their merchandise has changed significantly. However it still remains in the hands of the owner Terri Hill. She named the store after her two daughters Dakota and Jordan.
"Two years ago we made a switch from our original location in the Virginia Highlands to a much bigger space," Labenski said. "This improved our sales while also allowing us to carry more clothes pertaining to teens."
On a sunny weekend afternoon you'll find many people from the area and out of town shopping along the Virginia Highlands strip, always making sure to stop in Dakota J's.
"I love shopping at Dakota J's," said a long-time customer Liz Meyers. "They always take good care of my family and my dog."
As you browse the racks of the store, you can hear the sound of a store clerk finding the perfect outfit for their customer. As you turn to the door you can see another associate giving a dog a treat.
"Every time I go to Dakota J's I am greeted by knowledgeable sales associates willing to help me until I find the perfect match," Meyers said. "I always find an amazing product to go home with."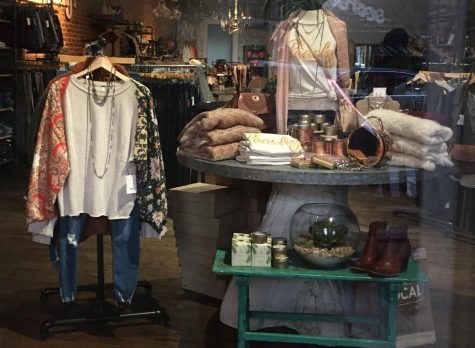 Walking into the store, the staff is dedicated to helping you find the best product. They create an inspiration to take your wardrobe to the next level .  
"The store is always clean and pleasing to the eye," Meyers said. "It makes me come back about two times a week."
The interior walls of the store are lined with bricks that bring you back to the beginning of the Virginia Highlands. The variety of colorful clothes that line the racks also brighten up the space.
"Shopping at Dakota J's is always so fun," said Remy Pair, a junior at Grady High School. "I was frantically shopping to find a homecoming dress and the clerk at Dakota J's helped me find the perfect dress."
At any age, Dakota J's will help you find what you need no matter what the reason is. Their knowledgeable store clerks are helpful, fashionable, and resourceful.
"I know many students who shop at Dakota J's," Pair said. "They always keep in style with the latest trends."
Leave a Comment