`The Hate U Give' hopes to inspire
"The Hate U Give" seeked to inspire social activism with its message that police brutality is an epidemic disproportionately affecting low-income communities of color. It may accomplish its goal as the the lobby of the Regal Atlantic Station Stadium theater was tightly packed for the movie's premiere.
The film is a timely movie about a 16-year-old girl, Starr Carter (Amandla Stenberg), who witnesses a police officer shoot and kill her best friend. The tough experiences and moments throughout the movie impact Starr and tear apart her community. Featuring a strong, female lead, the movie aims to empower black women.
Carter attends a predominantly white private high school but lives in a majority black neighborhood suffering the effects of being economically controlled by a drug lord, who controls illegal drug sales in the community. She not only finds herself split between her two worlds, but finds a voice to speak for her friend, shot by a police officer, and all other victims of police brutality. She speaks out in a TV interview and marches along protestors to make change for her friend.
"I hope for black girls you are able to feel validated, and you are able to understand despite all the forces that continue to police us or invalidate our experiences; we are powerful and multidimensional, despite the way the media constantly tries to misconstrue who we are," Stenberg, the lead actor said at the movie's opening.
While Grady is a diverse high school drawing from neighborhoods in different areas of Atlanta, the divide among students can be seen in classes, in sports, clubs, and at lunch. "The Hate U Give," originally a short story and book by Angie Thomas, was then made into a film. Educated on racial divides, Thomas spoke out about self-segregation, specifically at Grady.
"My challenge to the students of Grady is to find out what it's like to be someone who isn't like you, right in your school, and you'll be surprised to find out about issues you weren't aware of that you have the power to change," Thomas said. "Then I would remind them you have the power to change the world by changing things at Grady, by listening to one another and having those uncomfortable conversations."
Karan Kendrick, who portrays Carter's friend Kenya's mother Iesha, addressed people who make the decision to self-segregate.
"Why?" Kendrick said. "What is the benefit? What do you gain? What are you afraid of? I think, at the end of the day, we are all human. We have our differences in terms of where we are from and what our experiences are and our likes and dislikes, and even if we disagree on very fundamental things, one thing I learned is that you can disagree without being disagreeable."
"The Hate U Give" shows a high school student speaking out can make a difference on a social justice movement and with a large number of Grady students inspired by social justice, and the hard conversations can happen.
Carter's complex background, which contrasts her white private school with her predominantly black neighborhood, creates an internal struggle where she feels as though she must choose one or the other. This fight between two sides of oneself is seen in multiple characters in the movie as well, such as Khalil (Algee Smith), Carter's friend who got shot. Khalil was a 17-year-old kid who wanted to provide for his family but due to the systematic racism in society could not make enough money and resorted to selling drugs.
"An interesting exploration in the film is that we are not all just one thing," Kendrick said. "We are not all good. We are not all bad. We are all complex human beings, and at any given moment, any person can make a decision that can positively or negatively influence someone else. I hope that people will really embrace the idea of affecting change right from where you stand."
After the Oct. 3 Atlanta screening, he movie premieres nationwide on Oct. 19.
Leave a Comment
About the Contributor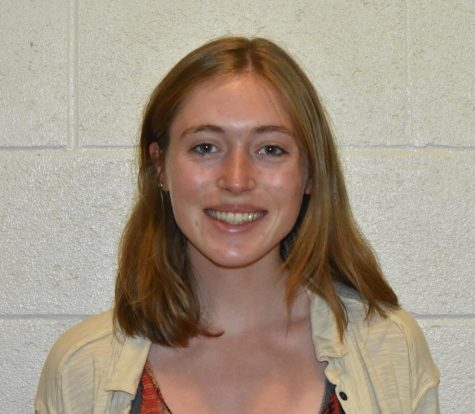 Ellie Werthman, Co-Editor in Chief
Ellie Werthman is a senior at Grady High School and co editor-in-chief this year. Along with working for the Southerner, she debates for the Grady Jesters...