Alumni Profile: Faye Webster
Grady's `an amazing experience students often take for granted,' says Webster
A 2015 graduate, alumna Faye Webster, 21, has already signed to two record labels, has been touring internationally, and has gotten the opportunity to photograph celebrities such as rappers Offset of Migos and Lil Yachty. She's also participated in a Nike ad campaign.
Looking back on her high school career, she says attending Grady was an amazing experience students often take for granted.
"Grady is so diverse, and I feel like people don't see it at first, but I felt like it was a privilege to go to Grady," Webster said. "You're exposed to so much … I was in so many different friend groups, and it built me a foundation of who I wanted to be."
Webster says that Grady helped her discover "where I want to be and what I want to do."
At the end of her junior year, Webster joined a rap group named "PSA," short for "Please Stop Asking."
"It was more than a rap group. It was a really good stepping stone for me," said Webster.
The 12 members of PSA dropped albums and performed gigs throughout their time at Grady. Although Webster has moved on from the group and is now signed to a record label, Javarius Sawyer, the founder of the collective, still continues to keep the sound of PSA alive.
"Everything started at Grady," said Sawyer. "[PSA] gave Faye that confidence and diversity — switching it up and just having fun because she was kind of a folk artist. But at the end of the day, music is just music, and she's super, super talented."
Webster "doesn't really know" what genre of music defines her unique sound, but it is clear that her music does not align with single, standard genre, but rather a blend of many categories of music. Some viewers in the comment section of her music videos liken Webster to a young Stevie Nicks of soft rock group Fleetwood Mac.
Webster recently signed to the "Secretly Canadian" record label and is an alumna of "Awful Records," which has produced other successful artists like rapper Playboi Carti. She currently has more than 36,000 monthly listeners on Spotify, her most popular song on the streaming platform is "She Won't Go Away."
Webster writes her own songs and is the brainchild of her music videos which capture a dreamy ambiance and incorporate everything from snakes to long braids and bicycles.
Webster has spent the past few months on tour. From the East Coast of the United States to Paris, France and Scotland, Webster's fan base extends globally.
Webster also has the self-proclaimed coolest, most diverse fan base.
"I really like my fans," said Webster. "One time, I asked them to bring me scratch offs (lottery tickets). I was on stage and was like 'Okay who brought me scratch offs?' I was half kidding, but about 20 people walked up to me and started handing me scratch-off tickets."
Webster shot photography for Nike in a promotional shoot for the revival of the Air Max '97 sneakers. Seeking photographers who were born in 1997 to represent "Movement 97," Webster participated in the ad campaign with the company. Her photography is featured on Nike billboards and on the Nike News website.
While writing her own music, Webster did photography for Lil Yachty, Offset and D.R.A.M., and also did a shoot with the Instagram famous Russell Horning, known as "Backpack Kid." Her shoot with D.R.A.M. was published in Rolling Stone.
"I didn't have a studio, so I shoot at their houses, which is really cool," said Webster reflecting on her photoshoots with the rappers.
View Comments (2)
About the Contributor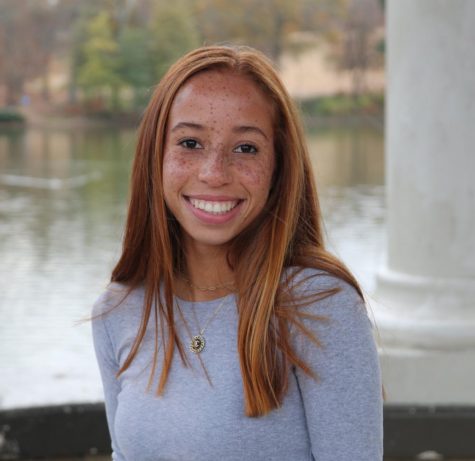 Kamryn Harty, Co-Editor in Chief
Kamryn Harty is excited for her last year on The Southerner staff! She is a Co-Editor in Chief and a member of the class of 2021. When she's not writing,...