Volleyball ups training for state playoffs
With the state playoffs approaching, the volleyball team is putting in maximum effort to get past  the first round.
During the 2017-2018 season, the Knights ended their season in the first round against Locust Grove with a 3-0 loss.
"We made it to the first round in state [last year]," sophomore Jillian Serfozo said. "We didn't make it farther than that, though. We lost by at least 10 points in that round and our season ended there. Our goal this season is to get farther."
To put this goal into action, the 8-12 team has been practicing nonstop with a schedule that includes intense conditioning and drills. Practices are held nearly every day and last two and a half hours. 
"We practice hard, so we can play hard," sophomore Carson Gray said. "We practice separately from JV, but for the varsity team, that means a mix of doing passing, setting and hitting drills, while doing conditioning. Our practices are really tough because we have a coach that doesn't let us give up, but I'd consider that a good thing."
Team culture has changed over the years. Coach Ella Cleveland has only been coaching at Grady for three years, and has made many changes.
"The culture of the team has definitely gotten more strict since I was a freshman," varsity captain Katie Wood said. "Ever since coach Cleveland became our coach, every tiny thing has to be the way she wants it, or we have consequences."
Cleveland has been pushing the team to be its best while also bringing them together. Many team bonding activities have been put into place to make sure that the team can play well together.
"Last year we did not make it past the first round of state playoffs, but this year we are putting in a lot more effort to pass that round," coach Cleveland said. "Practices have been longer, we've been doing more work on technique, and we're also doing more team bonding exercises. Having a fully bonded team is key for a winning team. I'm hoping with all of this work we've been doing that we will past the first round."
This year, the road to the state playoffs changed. Previously, a region tournament determined playoff qualifiers. Instead of a tournament, regular season standing now determines if teams advance to the playoffs. To their advantage, the Knights will play familiar foes.
"It's gonna be harder to get where we were last year," sophomore Mady Smith said. "We're playing a lot of teams we've played before, so we could beat them just because we know how they play, but they're also some of the harder teams so it's going to be difficult to make it to playoffs."
Despite the obstacles ahead, the team remains optimistic for the remainder of the season.
"We come to practice day after day not to just be doing something, but to get better and develop as a player," freshman Jade Lewis said. "This dedication and team spirit will reflect how the rest of our season will turn out."
Leave a Comment
About the Contributor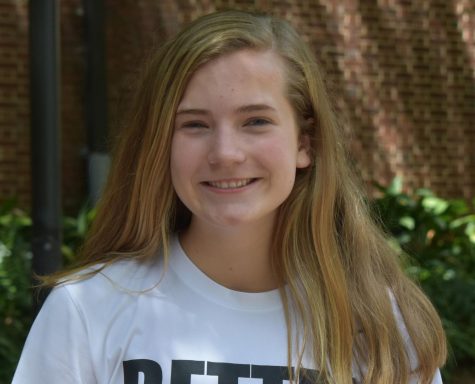 Katie Dwyer, Social Media Editor
Katie is a junior at Grady and is very excited for the upcoming year! She loves writing and managing the social media. In addition to being a part of the...