Off the beaten path sports entice student athletes
Popular sports at Grady like football, basketball, baseball, track and soccer have held the spotlight for fans and funding as long as the teams have existed. However, outside of these commonplace sports lay a world of other athletics that some Grady students participate in  outside school. These include ballet, horseback riding, rugby and Muay Thai.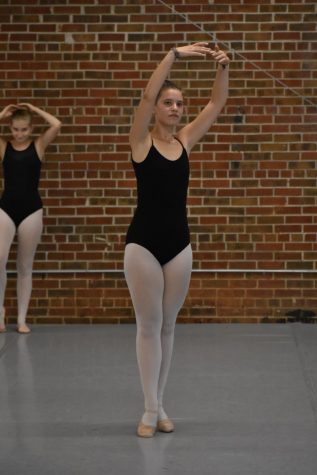 Mia Prausnitz-Weinbaum – Ballet
The floors are hard, the lights bright, and the pressure high as junior Mia Prausnitz-Weinbaum steps onto the stage at the Decatur High School theatre wearing pointe shoes and a ballet outfit in front of a crowd of about 300 at her "Nutcracker" performance in December 2017.
"I'm always like really nervous right before [the performance], but then as soon as I go on stage, it's gone and it's really fun," Prausnitz-Weinbaum said. "I don't even think about the dance, I just do it and hope I don't mess up."
Prausnitz-Weinbaum's roles last year, Marzipan and Snow, were of the biggest in the performance, but as preparations for this year's show in December have begun, her new roles excite her.
"`Nutcracker' is probably the most fun thing in dance," Prausnitz-Weinbaum said. "This year I have three roles that I'm sharing with another girl which are Sugar Plum, Snow Queen, and Marzipan, and I'm really excited about that."
Prausnitz-Weinbaum is at the "Royal Academy of Dance Syllabus for Advanced 2" level, meaning she has completed beginner, intermediate, and other advanced levels.
"It's really hard, and we learned some of it two years ago, and it was miserable; we could not do it," Prausnitz-Weinbaum said. "But this year it's a lot easier, and it's really fun and a lot of people probably don't like it, but I like that it's a challenge."
Kelly Dent, the owner and teacher of Dance Foundry, the company that Prausnitz-Weinbaum danced for, has had a big impact on her students.
"She's very hands on, and she'll show you exactly what she wants, and she'll keep telling you the same thing until you get it right," Prausnitz-Weinbaum said.  "A lot of times she can be harsh, but she really tries to push us especially now as we're the oldest group."
Dance Foundry, located in Decatur with daily practices,, takes up most of Prausnitz-Weinbaum's time since she began there.
"I think I've been dancing for 11 years, and it basically takes up my whole life, but I can still get my homework done," Prausnitz-Weinbaum said. "It does mean I can't do as many clubs, but I feel like it's still worth it."
The sport of ballet requires dedication, pain tolerance and a strong will because of its high level of difficulty. The impact it has on the dancers' bodies is not always positive.
"Ballet is really hard. At this level, I'm definitely sore a lot, but I feel like since I've been doing it for so long, it's a lot less than it used to be," Prausnitz-Weinbaum said.
Prausnitz-Weinbaum wants to continue her ballet career in college, but has no goal of "becoming a professional dancer." Dancing is her passion, and all the years of hard work have developed it further.
"My favorite part is probably like preparing for shows; getting one part and working really hard on it and a lot of times that includes acting and fun things like that," Prausnitz-Weinbaum said.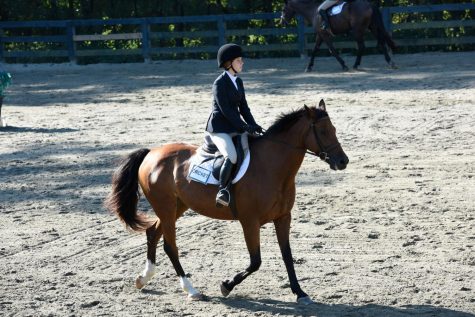 Anna Tischer – Horseback Riding
When the dirt flies and the judges take note of every movement, senior Anna Tischer knows to use her experience from past years of horseback riding to help her complete the course as fast as she can.
"I started taking lessons when I was five, but my aunt has horses, so she threw me on a horse when I was 18 months old," Tischer said.
Tischer's extensive training over the years have led her to ride for an Interscholastic Equestrian Association (IEA) team, a highly competitive level for high schoolers, which is more focused on team riding rather than individual.
"We compete in five normal season shows throughout the year and if we accumulate a certain amount of points, then we qualify for postseason shows," Tischer said. "It goes Regionals, Zones, and Nationals, and last year I qualified for Zones."
Like school sports, horseback riding is a big time commitment and can interfere with time to do homework and participate in other activities.
"I ride twice a week, and my barn is like 35 minutes away on a Sunday, but during the week it takes over an hour to drive there," Tischer said. "So it has definitely affected my other sports like cross country and my job, but it's definitely worth it because it's something that I love."
The kind of riding Tischer does, called hunter, is where judges look at how good both the jockey looks and how good the jockey makes the horse look.
"I know a few people at Grady do dressage because one of the closer barns in Atlanta mainly does dressage," Tischer said. "But hunter jumper is where it's more about speed and completing a course with minimum faults."
Tischer likes the team aspect of horseback riding, but understands the individuality and technique the sport requires.
"I like that it's technically a team sport, because I'm riding with some of my other friends, but it's also individual," Tischer said. "But it's never super individual because you're always with another being, like a horse, that's someone you don't have to talk with, but you still have to work with."
Because the sport involves controlling a fully grown horse and leading it through obstacles, it has a level of difficulty not found in many school sports.
"It's definitely very different and sort of harder than some of the other sports that I do," Tischer said.
Tischer's passion for horseback riding has her wanting to compete at the collegiate level.
"I definitely want to ride in college, not D1 or D2 — I'm definitely not at that level because only a small number of colleges have a team like that, but I'll probably ride for a club team," Tischer said.
Miro Devries – Muay Thai
Dealing with pain is something every athlete has to deal with, but none quite like Muay Thai martial arts fighter junior Miro Devries.
"When you're fighting you don't notice the pain too much, but afterwards you can be really sore. I've never had anything crazy happen to me, though," Devries said, "I don't really have a fear of injuries, because I kind of knew it can come with it, so I've kind of accepted it."
Muay Thai is a type of mixed martial arts (MMA) fighting that uses very technical moves in what is otherwise classic MMA fighting. DeVries is somewhat new to the sport, but has a history with MMA.
"I guess it's a year now, I started last September," Devries said. "I've always liked the sport, I've always watched it, and I've always been a fan; I did judo when I was a kid."
The facility DeVries trains at, X3 Sports in Inman Park, is a world-class training gym focused on building up the fitness and basics for beginners. They also help train to become a professional MMA fighter and for competitive youth, according to their website, x3sports.com.
"X3 was the best possible gym I could've chosen, the staff is all so close it feels more like family than anything, and my coach Justin has been a big inspiration and has taught me a lot," Devries said.
Muay Thai requires a lot of training to keep fit and learn the techniques for certain moves, but the demanding schedule has been manageable for DeVries.
"It makes it kind of tight, everyday at like 6:00, I have to go to the gym to train and then come home at nine," DeVries said. "Usually, I'll stay up late though and finish what I have to do for school."
Because Muay Thai is not a commonly-practiced sport by high school students, DeVries and X3 Sports have struggled in the past to find fighters able to compete with him.
"I was supposed to have one [around Sept. 6], but they couldn't find a fight, so that didn't happen, but I have more coming up," DeVries said.
In his first ever fight on Jan. 28, 2018, DeVries got to show off in front of "little less than 80 people" as he beat his opponent, now holding a record of 1-0.
"[My first fight] was very nerve wracking because I saw all my friends who came, but it was fun, and I won by decision after a pretty boring fight," DeVries said.
As for the future, DeVries is uncertain right now, but plans on competing in Muay Thai for as long as he can.
"I want to stick to it until I graduate for sure and then to see from there where I can go with it," DeVries said.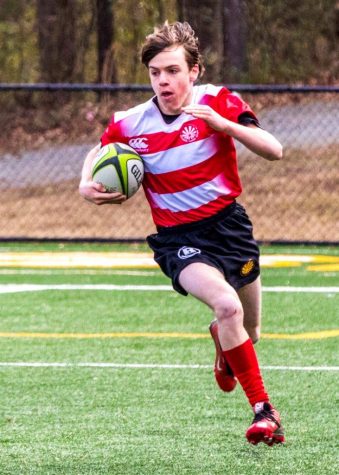 Ben Giersch – Rugby
With its intense continuous play, lack of padding, and heavy physicality, rugby is no sport for the weak, and junior Ben Giersch expects nothing less.
"I'm one of the faster kids on the team, and I'm one of the backs, so I don't do as much tackling. I kind of just run with the ball," Giersch said.
Rugby is similar to football, where the goal is to run the ball to the 'endzone' to score points, but it also uses a different set of rules and formations as well as style of play. The sport requires stamina, and the practices reflect that.
"For training, we kind of do the same thing as in cross country, we do laps around the field and what not," Giersch said.
The team Giersch plays for, Atlanta Youth Rugby (AYR), is made up of majority Grady students, helping the team bond.
"I think a majority of kids are from Grady," Giersch said. "But there are four or five kids that actually travel from North Georgia to come play for us, which is pretty cool."
The team has been successful in recent seasons.
"We ranked third in the Southeast last year for our tournament that was in North Carolina," Giersch said. "It was really fun."
The position Giersch plays, a "back," is not for the larger sized players and get the ball more.
"As a back, you just have to be ready when the ball is passed down, you have to be in a certain place but there are a bunch of different lineups and setups on the field." Giersch said. "You just have to be in the right place at the right time."
The team's practice schedule allows Giersch the flexibility to balance school and athletics.
"I've been playing for three years now, and the schedule doesn't affect me too much because [practice is] pretty late, so I do my homework before," Giersch said.
Although the rugby season isn't until the spring, Giersch is keeping fit by running for the cross country team in the fall, and is excited about the upcoming season.
"It's [spring] season, but we're competing in Ruggerfest, which is like the Southeast competition in Charlotte, North Carolina with all the East Coast teams," Giersch said.
Giersch's passion for rugby is strong and he wants to see how far he can go in the sport and eventually play at the collegiate level.
"Definitely, yeah, I want to play in college, but none in particular right now," Giersch said.
Leave a Comment
About the Contributor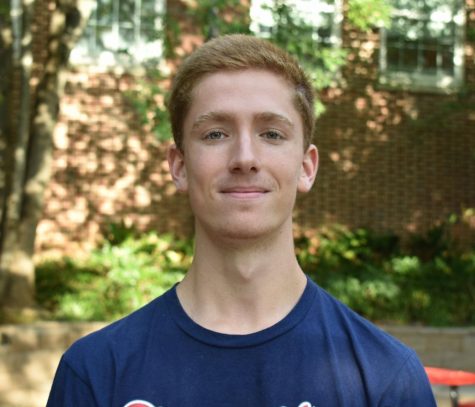 Elias Podber, Sports Managing Editor
Elias Podber is a senior this year and is excited to co-lead the sports section of the paper to new heights. He is captain of the cross country team and...