Beltline directly affects Virginia-Highland businesses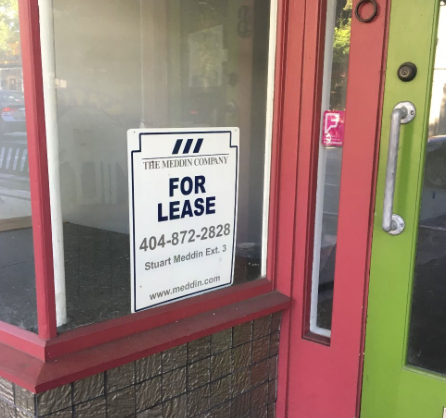 Right up the street from Grady sits a corner of shops lined with glowing fairy lights. Small groups of people wander from place to place. This area is known as Virginia-Highland and is a destination for people seeking local dining, shopping and entertainment. However, business in the area is struggling.
In August, American Roadhouse, a Virginia-Highland breakfast joint, closed its doors after providing 29 years of service. Hand-in-Hand also closed down July 14 after being open for nearly 19 years.
The BeltLine, a walking trail that snakes its way through Atlanta, has just now become popular in the last few years. It brings lots of attention to places like Ponce City Market, Inman Park, and Krog Street Market. These have been bustling areas of commerce recently as people flock to go shopping in the many boutiques and dine in the unique restaurants.
One would think that all this centralized attention toward the Beltline would draw people away from Virginia-Highland and be the cause of the recent closings of business. However, many local business owners seem to feel differently. For stores like Atlanta Pro Bikes, business has steadily increased, according to co-owner Paul Edwards.
"The BeltLine was pretty much already going when we got here," Edwards said. "But it's definitely helped us."
This fact hasn't stopped Edwards from noticing the closings that have been occurring along this stretch of road.
"There have been a lot of closings, people going, like Half Moon [Outfitters]," Edwards said.
Despite this, he doesn't seem personally concerned about his business struggling.
"We are kind of a destination business, and we have a lot of built-in business with the neighborhood," Edwards said. "That does not concern us as much, but the parking does."
Tuscany at Your Table, a small Italian market across the street from the bike shop, is going on two years of business. The owner, Luigi D'Arienzo, has also noticed a steady increase in business thanks to the popularity of the BeltLine.
"The business has grown and its very good," D'Arienzo said. "Last year we had 35 cooking classes and already this year we have had 75."
In spite of this success, he has also seen parking become a problem.
"We need more parking and we need it for free," D'Arienzo said. "It's expensive, and one time a guy left his car for thirty seconds and they came and gave him a ticket."
Paper Source, a gift store, has been in the area for nine years. The manager, Sarah Kolodzlejski, has also seen a similar problem with parking.
"One thing that I've heard from a lot of customers is that one reason they don't come here as often is that people hate paying street parking," Kolodzlejski said.
She has even had individuals come in to complain.
"I've had customers come in and say, 'I'm never shopping here again because I have to pay 3 dollars to come in here and buy a 4 dollar card,'" Kolodzlejki said. "I think finding some more spaces where we could offer free parking would be a huge help."
Some of the other business owners have even gotten together to tackle some of the problems that Virginia- Highland are facing.
"Some people are trying to go the route of beautification, "make it a little more pleasing," Edwards said.
Dakota J's, a high-end clothing store in the area, has been around for 22 years. The manager, Jennifer Gross, believes that the for Virginia-Highland to succeed, it must improve its appearance.
"I've been to other cities where its just prettier and more appealing," Gross said. "If we make it more like a park where people can hang out, and make more areas where people can go and sit, that would be better."
Grofvenor Fish, a local resident of Virginia-Highland, has lived her for a total of 15 years.
"What we like about it, is that it has a strong sense of community, and we can pretty much walk to anything we need," Fish said.
He has seen lots of changes is business over the years.
"There used to be a Starbucks and a Ben and Jerry's," Fish said, "Now there's a bridal shop and a pizza place."
As places have moved out he has noticed another trend.
"The tenants are not coming back as fast as they were leaving, and we have a lot of unoccupied space," Fish said.
This was a problem that many other local shop owners noticed as well.
"The rent in this particular complex has gone up a lot," Kolodzlejki said. "It's harder to have a small business and pay the bills."
This problem needs to be faced in order to attract more businesses.
"I think the landlords here have to realize that the rents are just getting so high," Kolodzlejki said, "I think if they would lower the rent and make it a bit more reasonable, it would help get spaces rented out and make people want to be here longer."
Despite the BeltLine seemingly being the reason that some stores have suffered, it may have the potential to do more good than harm. There are ways that these businesses can take advantage of the steady flow of people near and around the BeltLine. These include possibly lowering rent, beautifying the street and above all providing easier parking options.
Fish hopes to see more success in his neighborhood and in particular, more variety.
"I would like us to get a bagel place on our end," Fish said, "We have to walk pretty far to get a coffee and a bagel, which is something I would like to see change as a person who lives here."
Leave a Comment