Student and mother make memories backpacking in Spain
The pilgrimage of The Camino de Santiago in northwestern Spain beckons travelers the world over to hike its many trails.

Through mountains and golden fields of wheat, speckled with red tulips, sophomore Erin Sweeney and her mother, Mary, took on the challenge of El Camino.

St. Jean Pied De Port, France is where the journey started. Over 36 days, Sweeney and her mom trekked 496 miles through the Pyrenees Mountains and across the sweltering Spanish meseta.

"The scenery in the mountains was lush and misty, like a rainforest," said Sweeney. "The mountains were actually my favorite part."

Sweeney characterized the meseta, or the Spanish plains, simply: flat and hot. Despite advice to take a bus to the next town rather than face the heat of the meseta, Sweeney and her mom took on the challenge.

"Some days we would walk and not see another person," Sweeney said. "A lot of times, in that part, it was just us."

Ms. Sweeney said the real challenge behind the meseta was the heat.

"I think that was one of our hardest days, because Erin was overheating a bit and
there was not a speck of shade," she said.

Although the isolation, combined with the relentless sun, made Ms. Sweeney a little uneasy, yellow wooden signs decorated with a single seashell marked the way. As long as there was a shell in sight, they knew they were on the right track.

"We stopped in this one town and there was not a single person there," said Sweeney. "In Spain, it's siesta or nap time, so people would take a break between lunch and dinner to sleep."

Sweeney spent most of her nights in Spain sleeping under the roof of an albergue, or hostel. Beds cost 5 euros, and it was in those bunks of the albergue where Sweeney and her mother formed unlikely bonds with others who were participating in the pilgrimage.

One of the girls Sweeney met, from Australia, ended up sleeping in Atlanta on Sweeney's couch in Candler Park for a week after El Camino.

"We would stay in a different place every night," Sweeney said. "There were no reservations, so we would just walk into a town and say 'Oh let's stay here.' So it was kind of spontaneous."

One morning, Sweeney and a few others in her alburgue awakened early to catch the beautiful Spanish sunrise. Accompanied by two Russian girls, a photographer, Glen MacRae, from Canada, and an Italian chef, Sweeney and her mother experienced the awakening of the world from a cliff overlooking a quiet highway.

"It was kinda insane to think that a group of people from all over the world… could be brought together to do a thing as simple as watching a sunset," said Sweeney.

Sweeney and her mom walked with on and off with most of the people she met. They would hike nearly 20 miles together — part ways— and possibly see each other again in another small town.

After visiting a beach in Finisterre, Spain with other hikers near the trip's end, Sweeney and her mother visited a tattoo parlor for a memento of their trip together.

"This was a journey of mind, body and spirit," said Ms. Sweeney. "I have never thought about getting a tattoo in my life before this, but this situation seemed right…I wanted her to look at her tattoo and remember how hard some of those days were and use it as inspiration."

Erin and her mother decided to get matching tattoos of scallop shells. Ms. Sweeney's is on her ankle, and Erin's is etched onto her shoulder blade.

"It's kind of crazy because after I got it, I thought 'Oh my gosh, this will be there forever!' But I don't regret it, and I don't think I ever will."

Ms. Sweeney agreed that the experience, both the walk and the memories, was a valuable one.

"I could not have asked for a better walking companion," she said.
Leave a Comment
About the Contributor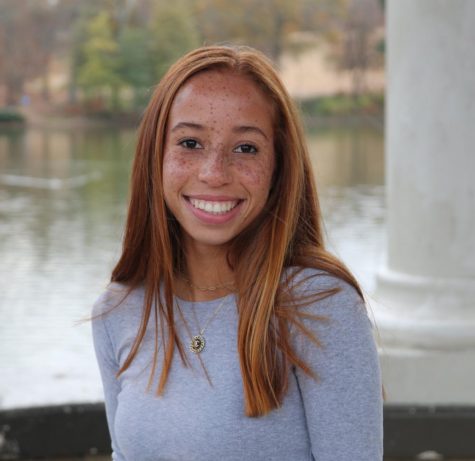 Kamryn Harty, Co-Editor in Chief
Kamryn Harty is excited for her last year on The Southerner staff! She is a Co-Editor in Chief and a member of the class of 2021. When she's not writing,...