Rogan sisters tackle Grady together
Teaching has always been in the cards for Carolyn Rogan, the newest addition to the English teaching department.
"I've always loved working with kids," Rogan said. "I have been working and helping teach kids since I was a freshman in high school. I helped out middle schoolers when I was in ninth grade, and that's when I first started realizing that I enjoyed it."
Though Rogan is fascinated with her new job at Grady and becoming acquainted with her students, not long ago, she was still learning herself.
"I graduated from Wellesley College in Massachusetts on June 1st of this year, so this is officially my second and a half week of teaching," Rogan said. "I worked as a teaching assistant in a small, public middle school for six months in Boston, but working here is a huge step from helping children. I'm teaching people four to five years younger than me now."
At 22 years old, Rogan is the youngest teacher at Grady. The quick change from college student to high school teacher was overwhelming to the American and British literature instructor, but having some familiar faces around campus, like younger sister, senior Anne Rogan, made the transition easier.   
"Seeing Anne in the hallways or in my classroom is definitely weird, but it's a good weird," Rogan said. "I obviously love to see my sister during the day, but it throws me off when she calls me 'Ms. Rogan.'"     
While the sisters are very close at home, Rogan was hesitant to infringe on Anne's senior year at Grady, since she believes the school is  is "Anne's place."
"Carolyn asked me the moment she got the teaching position at Grady if it would be okay with me for her to take it," Anne said. "I knew that she was looking for a job at APS, I just wasn't expecting it to be Grady since she was looking at Inman for a while. But I decided to think of it as an opportunity for her rather than 'My sister is going to work at my school.'"
Adjusting to Grady has been different from Rogan's expectations. A Paideia graduate, Rogan has never been part of the Grady cluster, Atlanta Public Schools, or a public school, for that matter. Educated in a place with more teacher flexibility, and more relaxed rules, Rogan has to alter the way she teaches to adapt  to Grady's environment.
"We are very well-regulated here, and private school just isn't," Rogan said. "The thing that made me realize how important public schools are is that in college, the whole idea of private school is that you get to choose who you get to learn with, and in the real world, that just isn't the case all the time."
Rogan believes that she is not only at Grady to teach 11th and 12th grade literature, but she is also here to learn from the students. As a first-year teacher, Rogan decided to use her  experience to help build relationships with her students and leave her a positive mark on the Grady community.
"I felt somewhat worried about my authority as a teacher being overshadowed by the fact that I'm only five years older than most of my students, but I've realized that my students just want to talk and have someone listen, and I love to hear what they have to say," Rogan said.
View Comments (1)
About the Contributors
Molly Haynes, Author
I am a junior at Grady High School. This is my first year on The Southerner staff, but I have been apart of Grady's journalism program since freshman year....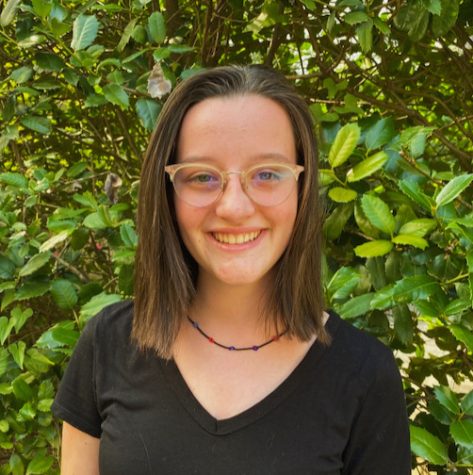 Dana Richie, Co-Editor in Chief
Dana is a senior who loves using her voice to tell other people's stories as well as share her own views. She really enjoys writing for the Southerner...