Lack of pep for Grady athletics
In recent years, Grady athletics hasn't had consistent support from students notorious for lacking school pride.
Football games that once had elaborate pep signs and chants have now turned into displays of inaudible cheers and a visible lack of excitement. The season seems to start at a high point with the aggressive North Atlanta game in which students enjoy chanting for the infamous rivalry, but in the games following, that excitement is never close to being reached again during the season. Grady culture seems to have barely any spirit left as we transition from a once winning culture to losing one.
When I first came to Grady, I had expected high school to be like what I'd seen in the movies: long talks in the hallways, constant drama, and of course wild football games. My experience has taught me that although some of these stereotypes apply, our school pride isn't anything on par with that of most high schools. Schools like Riverwood have games that involve chants and constant cheering. At North Atlanta just this Friday we saw their away crowd rival our home supporters using elaborate posters and signs that Grady lacked.
For me, my freshman year was sadly the last year I can remember any excitement at football games. We were all genuinely excited for the football season as our team looked unbeatable. Led by quarterback Caylin Newton, we cruised to a 9-1 record in the regular season and went on to lose in the second round of the playoffs to finish 10-2.
Last year, Grady did not live up to the hype set for the team from the year before. We finished off 2-7, with most losses as blowouts. As our record went down and our schedule consisted of mainly all away games, so did attendance at games.
The mood at football games is, for the small number who attend, quiet and calm. Toward the end of last season, most of our home crowd seemed to be parents. Across the field, the visiting crowd was almost always filled with a vibrant student section that never failed to get loud.
A downward trend in athletic success has no doubt had a very obvious effect on the school spirit, but even before, in past years, even when teams were winning, Grady has never had a true enthusiasm for its athletics.
In other schools such as Woodward for example, the varsity jacket is a badge of honor and students wear them with pride, but at Grady, varsity jackets are about as uncommon as it gets.
Being a varsity athlete myself, I've never considered buying a varsity jacket. In fact, I would not even know how to go about buying one.
To Grady students, it seems that school spirit is not "cool." This is displayed not only at sports games but also at other school-wide events. For example, the first pep rally is designed to get students excited for the upcoming football season and school year, but what normally happens is the senior class is the only grade that looks passionate. The culture here makes it seem like the only ones allowed to show school spirit are the seniors.
This lack of enthusiasm limits our school and should be wiped out completely. Change may come slowly, but the school's spirit culture needs an upgrade. Grady students have so much to be proud of and to cheer for, and I think it's finally time they step up and show that.
Leave a Comment
About the Contributor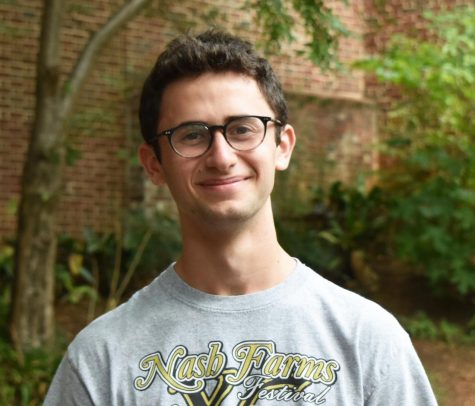 Bram Mansbach, Sports Assistant Managing Editor
Bram Mansbach is a senior and the sports section editor for the Southerner. When he is not working on pages he is across the street in Piedmont Park as...