Football team looks to bounce back after 2-7 season
After a 2-7 losing season last year, Grady football is looking towards first time head coach Kevin Clark to bring back the winning ways of 2 years ago.
Clark comes from a winning atmosphere, previously coaching as the defensive-backs coach at Mays. He has brought in a new coaching staff along with a new offseason workout plan, which he hopes will increase the Knights chances of success this year.
"I think you really have to change the coaching, and change the mindsets of the kids," Clark said. "You need to help them understand what they have to do in order to be successful."
Grady continued their buildup to the regular season on August 10th as they played the Northgate Vikings in a preseason scrimmage. Northgate, who finished 6-4 last year, won the game 0-19 in a turnover ridden game for both sides.
Grady was unable to move the ball down the field, converting no first downs for the entirety of the first half and giving away three turnovers. An undersized offensive line and special teams issues also contributed to the lack of scoring for the Knights.
"We have to work on the offense and take away the turnovers. I think if we do that we can be a pretty good team," said Clark.
Contrasting the woes of the offense the Knights defense put on a show of their own, forcing two turnovers and holding the Viking to just 80 yards of total offense. After providing two key stops in the red zone that limited the Vikings to just three points; the Knights were able to display why Coach Clark and his defensive mindset were hired.
"The positives [from the game] were that we played very well on defense. I've seen a lot of progress from the beginning of the year, and for us to hold a defense to only 80 yards of offense is pretty good." said Clark.
After losing two key offensive players from last season's team, running back Craig Philpot and wide receiver Zaire Thornton, the offense is still looking to find its niche. Quarterback Alvin James will look to find new options to get the ball to, along with helping his team limit turnovers in the teams first regular season game against intown rivals North Atlanta.
Last year the Knights lost to North Atlanta 7-21, after beating them 53-0 in 2016. With the negatives and positives learned from the preseason scrimmage the Knights will try to put what they learned from the game into fruition on Friday night.
View Comments (1)
About the Contributor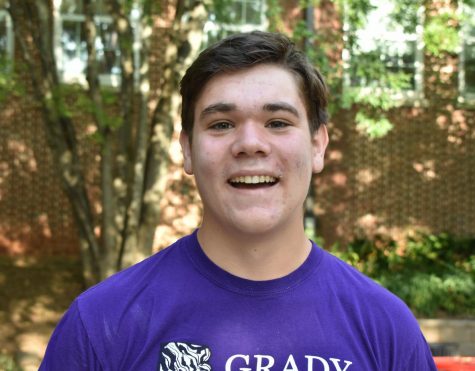 Mills Rentz-Baker, Online Sports Section Editor
Mills is the online sports editor for the Southerner. When he isn't working for the newspaper he is debating for the Grady Jesters in Public Forum debate,...