Award-winning poet Stallings reads at Grady
Poet and classicist A.E. Stallings has proven that the humanities are not a lost art. Many of her poems are based in Greek and Roman mythology, and yet, she expertly intertwines the stories with modern life, creating poems that are widely relatable and deeply impactful.
The Latin program invited Stallings to come to the school in early August. She held an event in the Black Box Theater to read some of her poems and discuss her career as a poet and classicist.
"I'm incredibly inclined to like her, and most classicists I know who are aware of her poetry are also inclined that way," said Latin teacher Amy Leonard, who attended the event. "Part of my enthusiasm for what she does is that she is somebody who is out there, who has a greater audience, and who is holding the microphone a little bit more."
Stallings is a critically-acclaimed poet and recipient of the 2011 MacArthur Fellowship — nicknamed the "genius grant" — for her work. She already has several published books, and her book "Like"  will be released Sept. 25. Recently, her poem "Swallows" was published in the Aug. 6 edition of the New Yorker.
According to librarian Lisa Taft, events like Stallings' visit are especially important for students because the events let the students connect their lives to the author's life.
"I think it's so valuable for young people, and all of us, to see authors as real people," Taft said.
Stallings is originally from Decatur and attended the University of Georgia. Leonard is also an alum of the school, and has been interested in Stallings' poetry for many years.
"I was reading the alumni newsletter, and I saw her listed as an alum," Leonard said. "It had a write-up about her life and what she was up to. I learned that she was a poet who graduated from my program, who wrote about classics, and that she was a published poet, and I was very interested in following her."
At UGA, Stallings began as a music and English major, but she switched her major to classical studies after realizing her schedule was saturated with classics courses. After graduating with a Bachelor of Arts degree, Stallings studied at the Institute of Classical Studies in London and at Oxford University, where she earned her master's degree.
Although Stallings wasn't introduced to classics until college, she had an interest in writing since elementary school.
"My mother was a school librarian, and from a very early age, I realized that books were written by people, and that was something one could do as a career," Stallings said. "I always wanted to have my name on the cover of a book."
In 2011, Stallings received the MacArthur Fellowship, a $625,000 grant awarded to 20-30 people each year. According to the MacArthur Foundation website, the fellowship is given to "extraordinarily talented and creative individuals as an investment in their potential."
Prior to winning the fellowship, Stallings had moved to Athens, Greece. This gave her a new perspective on the myths she writes about, as many are set in Greece. However, in 2010, Greece entered a deep financial crisis, and without the MacArthur Fellowship, she may have had to relocate.
"We had that extra support, so that was very important," Stallings said.
Another unique aspect of Stallings' poetry is her use of "received forms." These are specific poetic structures with strict stylistic guidelines. Stallings employs dozens of these forms across her poetry, some of which are relatively obscure.
"It was very interesting how a lot of the patterns you see in Latin poetry and classical poetry were present in her English work," said senior Jack Labadia, who was also at Stallings' poetry reading.
While many of Stallings' poems follow traditional poetic forms, she likes to push the boundaries. For example, her poem "First Love: A Quiz," about Persephone and Hades, the Greek god and goddess of the Underworld, is written in the form of a multiple choice test.
"I'm in awe that she can take those forms and those structures and then be so creative and imaginative within those structures," Taft said. "I'm awestruck."
Leave a Comment
About the Contributor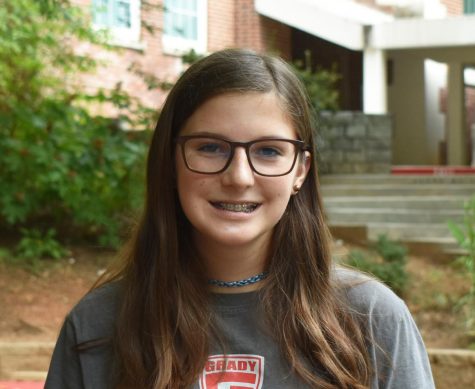 Lanier Pickren, Comment Managing Editor
Lanier is a senior and this is her third year on staff with the Southerner. In addition to writing for the Southerner, Lanier is editor of Latin club,...