Grady students suddenly are no longer wrong
Students will miss hearing long-time assistant principal Dr. David Lee Propst's catchphrase, "you are wrong." He retired from Grady on July 31. Dr. Propst will be the new principal of 2,000-student school, A'Takamul International School, in Kuwait City, Kuwait, this year, as he plans to leave for one year.
"It will be a great learning experience to see another educational standard," Dr. Propst said. "I'm going abroad to learn and bring it back home."
Students at A'Takamul International School are separated by floor based on their gender and attend school Sunday through Thursday. Full of aristocratic students from across the Middle East, the international school offers extensive travel opportunities and classes to learn French, English, Spanish and Arabic.
"The biggest challenge [for Dr. Propst] will be getting used to the different culture, new norms, and customs that he will have to learn and seeing what has to be tweaked," Dr. Betsy Bockman said. "Being responsible for everything is a big change."
Dr. Propst's new boss found him through LinkedIn, called and scheduled an interview via Facetime. Since 2001, Dr. Propst worked as an assistant principal. Dr. Propst wants to take the next step and be a principal while serving as a bridge between Grady and Kuwait.
"I am going to another country, another culture; I have to convince and lead them towards my vision. That is where you learn leadership. It is exciting," Dr. Propst said. "I want to make them excited about education."
Dr. Propst is being replaced by Tekeshia Hollis, a former instructional coach, but Rodney Howard took the office Dr. Propst left, of which both told different stories.
"I know Dr. Propst is going to claim that this is his office, but it is my original office," said a perched Howard, who used the office from 2011 to 2014.
There are still five assistant principals and administrators at Grady: Howard, Carrie MacBrien, Raymond Dawson, Willie Vincent and Hollis. Besides overseeing the safety and well-being of the school, each assistant principal at Grady holds different roles. Last year, Dr. Propst and Mr. Howard were the ones sent to tribunal hearings to represent the school before the panel. Dr. Propst was also in charge of the events report.
"When people wanted to make movies at Grady, he would be the point person," Howard said.
Dr. Propst, looking over the operation of the school, administered the police officers. Each administrator regulates the behavior of the students in many ways, from dealing with behavior referrals to watching over school lunches. The students are split up by last name among the assistant principals. Dr. Propst was responsible for students with the last name A-F. He did not evaluate any teachers last year, but he managed the attendance and discipline data.
"He worked with a student committee to cut down tardies and was very dedicated, improving the attendance over the last three years," Dr. Bockman said.
While considered by his colleagues and students to be silly and bubbly, he takes his work seriously.
"I miss him," Dr. Bockman said. "He was like a brother. He was very dedicated and you could always depend on him."
Dr. Propst may be leaving Grady but he leaves behind a foundation in his name. Dr. Propst founded the M.I.N.D. Educational Foundation (Mastering Interventions for Necessary Development). According to their website, "the M.I.N.D. Educational Foundation Movement is to embrace a Proactive, instead of a Reactive approach towards substance abuse and mental illness."
"The goal, in order to help the students, is to educate the parents when their child have suicidal tendencies or anything of that nature," Dr. Propst said.
In January 2018, Grady lost a student to suicide. The foundation then went into full throttle. Dr. Propst wanted to ensure that what happened in January never happens again. The 501(c)(3) was filed for and more sponsors were getting on board.
"After losing Theo in January, I went and completed everything for the foundation. It tore me up because I saw him before and did not think anything suspicious," Dr. Propst said. "I wish I could have done something."
Adelia Johnson, a social worker at Grady, is on the board for Dr. Propst's foundation. She conducts the youth mental health "first aid" training.
"As educators, all we think about is reading, writing and arithmetic. We don't think about the whole social and emotional aspect of it," Dr. Propst said. " Children today are dealing with so much more than I was dealing with when I was growing up, like social media and other things that affect kids," Dr. Propst said, who believes the foundation is also something his late wife would be proud of.
Dr. Propst was born in Baltimore, but he attended four high schools as a kid since his father was a soldier in the army.
"I played football, track and field, baseball, swimming and wrestling," Dr. Propst said. "It was easy changing sports as I switched high schools."
Before receiving his doctorate in education at Clarke Atlanta University, at age 20, Dr. Propst traveled the world as a medical service corp officer in the army for three years.
While in the army, he met his future wife, a high school spanish teacher, at Fort Benning in a library as she helped him with his Masters work.
"I didn't want to ruin her career so I got out and I changed my career to education," Dr. Propst said. "I've never looked back."
Dr. Propst went into education as a physical education teacher, coaching football and track and field. Changing Georgia counties a handful of times, he ended up at Grady in 2008 under Dr. Vincent Murray.
Dr. Propst affected the lives of many students as a trusted adult students could rely on. Sophomore Lucia Fernandez shed light on the relationship she had with Propst.
"Dr. Propst was always very responsive and a good shoulder to lean on. Whenever I had a problem, I could go to him," Fernandez said. "We are losing a wonderful role model and a wise soul to talk to."
The former assistant principal easily became close with his colleagues, particularly the other assistant principals. Whenever things started to get a little tense, he and Howard tried to laugh and help relieve their stress.
"I'm going to miss my partner in crime," Howard said. "He ate lunch in the cafeteria on a daily basis. Any day there was chicken in the cafeteria, he would get up on the radio and let me know, 'Hey you know they got that dirty bird in cafeteria.'"
Fellow staff member, Spanish teacher Ms. Liliana Ortegon is bittersweet over the departure of Propst.
"I am happy for him because I know he will be in a great place, and he will impact others the same way he did here," Ortegon said. "But it's sad because it is one of my colleagues leaving."
To senior Caleb Maloof, Propst was one of the main people keeping the school in order and students out of trouble. Maloof described as "very strict" but explained how he was able to create a bond with every student.
"Dr. Propst was very crazy and loud at 8:20 in the morning, screaming 'You are wrong!'," Maloof said. "He was very passionate about his job and cared about every student at Grady and wanted the best for them."
As a man with the greatest pride in Grady and its students, Dr. Propst held very high expectations. He also was a very vocal enforcer, as he is one that likes to be heard.
"I have said "You are Wrong" all my career," Dr. Propst said. "You are wrong if you're not sitting in the chair by 8:15. Everyone needs to be corrected every day. It keeps you grounded, keeps you on your toes. I say it with love though, with understanding."
After Dr. Propst's wife passed away, he leaned on the Grady community for support. Her presence remains with him, pushing for him to be his best self.
"He always said he still felt her presence and her push for him to be dedicated," Dr. Bockman said. "We went to breakfast once, the assistant principals and me. He believes his wife would be very proud of this risk and leap."
While he lives alone, Dr. Propst is very family-oriented. Outside of work, Dr. Propst loves spending time with people close to him. He also golfs, travels and adores his rottweiler.
"He is a regular person," Howard said. "He wears jeans, sweats and shorts just like we all do. When we are not at work, we let our hair down. When you are at work you have to be professional, but we do have a life outside of work."
Being in the military for several years, Dr. Propst remains an early riser and a man who stands at attention, with his legs always spread shoulder-width apart. A huge presence at Grady, Dr. Propst always liked to clear the courtyard and the cafeteria with his booming voice.
"Who is going to be the next Dr. Propst around Grady, no one knows," Howard said.
Dr. Propst will miss the people and atmosphere of Grady while he is away.
"To be able to work with such a dynamic staff, to be able to open the door in the morning and see them come through at 7:45, to walk away from that, it's difficult," Dr. Propst said. "That was the light of my day. When I get up in the morning, I am excited about coming to work. That's why I have always been the first one in the school and the last one out."
View Comments (2)
About the Contributors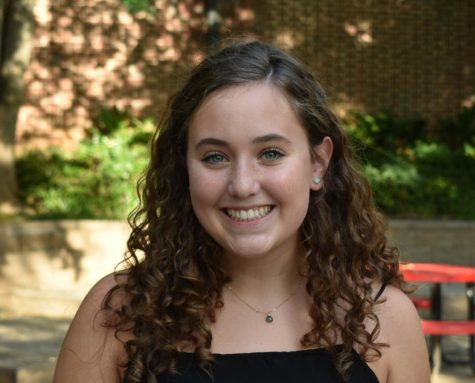 Kiki Soto, Co-Editor in Chief
Kiki Soto is a senior and Co-Editor in Chief of The Southerner. When she is not working on the newspaper and website, she is running around playing varsity...