Senior Hannah Prausnitz-Weinbaum does it all
Hang on for a minute...we're trying to find some more stories you might like.
When senior Hannah Prausnitz-Weinbaum isn't earning stellar grades that propel her to the top of her class, she is the captain of an award-winning robotics team and a leader in the chorus department.
In addition to leading and excelling in a variety of activities, she is also the valedictorian of the class of 2018.
As captain of the robotics team, she attends practices four times a week. Her duties include leading the team at competitions and providing guidance to team members, ranging from building which consists of designing and programming of the robots, to fundraisers and outreach events to the community, such as the Gaming Gauntlet.
"She's very helpful at practice, and is definitely a good leader," said freshman robotics member Mackenzie York.
This year, Prausnitz-Weinbaum is a finalist for the National Merit Scholarship, an academic scholarship competition that high school students can qualify for by receiving high marks on the PSAT. The process is very selective, and she is one of three Grady students who are finalists for the scholarship.
Prausnitz-Weinbaum's success in high school has yielded impressive results. She was accepted into both Brown University and Stanford University. Besides earning her a spot in two of the top universities in America, Prausnitz-Weinbaum participation in high school extracurriculars has shaped her interests.
"Robotics has shaped more of what I want to do in college because I like math, and I'm probably going to major in math," said Prausnitz-Weinbaum.
Grady calculus teacher Andrew Nichols has had a profound influence on Prausnitz- Weinbaum's interest in math. He has given her an idea of what her interest in careers are.
"I really like [Mr. Nichol's] calculus class, and it has made me like math a lot," said Prausnitz-Weinbaum.
In addition to her knack for math and working on her high grades, Prausnitz-Weinbaum has a love and talent for music, especially music theory. She is the co-president of the Grady chorus as well as a member of the Atlanta Youth Singers, a community choir that meets once a week.
"I've been singing since third grade, and so I've always known I'm going to keep singing forever," said Prausnitz-Weinbaum.
Recently, she participated in All-State Reading Chorus, a selective chorus that only takes 200 students out of around 10,000 from students across the state
"If you're good enough at sight reading then you go there and it's really fun," said Prausnitz-Weinbaum.
Prausnitz-Weinbaum credits chorus teacher Kevin Hill with her success and interest in music. Hill teaches many chorus classes and this year led four students to All-State Chorus. However, only Prausnitz–Weinbaum was accepted into the All-State Reading Chorus.
"He has gotten me interested in all the different opportunities like All State and District Honors Chorus."
Prausnitz-Weinbaum's talents range from intelligence to robotics to singing. But even with her talent, the overwhelming reason for her success is diligence. She works hard and stays grounded.
"She's one of those people that proves that hard work really does pay off," said freshman chorus member Bianca Weber.

About the Writer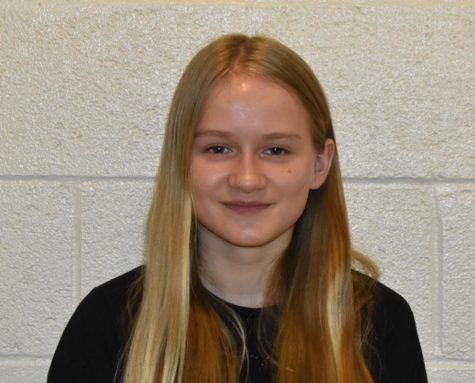 Anna Fedorova, Writer
Anna is a sophomore writer for the Southerner. She is also a member of the Grady mock trial team, cross country team, and the Grady chapter of 500 Women...