Wild and free: Dynamic Duo ventures into summer
In the the last semester of their senior year at Grady, Walden Jones and Eve Robinson, senior best friend duo, are considering their summer plans.
The customary high school summer ideas — lifeguarding, internships, excess school work and traditional camp sessions — were thrown out, and the friends decided to focus on crafting a summer that would rival, and best, their 2017 summer excursions. Jones and Robinson resolved to hike 211 miles on the John Muir trail on the Pacific Crest Trail (PCT) in California, from Yosemite Valley to Mount Whitney, during their summer before college.
"I think that people place work and responsibility first-and-foremost and forget — or simply lose the drive — to do what actually gives them motivation and joy in life," said Robinson, elaborating on why the pair planned to summer in the notoriously rocky mountains. "Especially before college, I think a fun outdoor adventure is my idea of a good time, and I believe [Walden and I] should be able to do just that. Adulthood is coming, and we're starting it outdoors."
A main inspiration for hiking a portion of the PCT before college was the adventures of the summer between their junior and senior years, where the two were determined to forge new paths — literally.
"One day, we decided we wanted to go backpacking in Colorado," Jones said of her's and Robinson's decision to leave Atlanta for the summer of 2017. "Once that was decided, we, very quickly, were like 'Ok, now we're going to buy [plane] tickets spanning a week in June.' And that was it."
The trip was planned and executed by Jones and Robinson. The seniors are both well-versed when it comes to hiking and camping, having been engaged in outdoor activities for years separately for the time they have been friends.
"One of our friends, Cameron, brought us together last year," Robinson said. "I was already good friends with Cameron, and then Walden became good friends with her. And when she wasn't there, Walden and I started hanging out. We both loved being outside, so that was something we have been able to explore as friends."
After arriving in Denver, Colorado and crashing a wedding in Boulder, the two girls stayed with a woman named Deb who gave them a ride back into town and let them sleep overnight at her house.
"We told this lady, who was at the wedding, that we had no way to get back into town [from the trip in the national forest], and we were planning on either walking 12 hours straight or hitchhiking," Jones said. "She said 'Oh no, no hitchhiking,' and agreed to pick us up and have us stay at her house for one night. It was really cool."
According to Jones, the people they met on their expedition shaped their experience.
"We always meet people when we're out together," Jones said. "They were what helped get us through everything."
Following their departure from town, the two planned to hike into the mountains for the backpacking part of their journey. However, before they made any leeway, an encounter with park rangers left Jones and Robinson scrambling to re-prepare for the trip.
"We go camping [together] all the time, but still neither of us have actual supplies to go camping," Jones said. "It hit us the day before we were to start hiking when we realized we didn't have a water filter…"
A water filter was not the only vital piece of equipment the pair lacked for their trip.
"[We also did not have] matches or gloves," Robinson continued. "We didn't know there was going to be snow until we were there. There was five feet of snow, and it was the third week of June. We went up to the base of the mountain, and the rangers told us that no one had been on any of the trails or had stayed at any of the sites because the snow was so thick."
Bryan Jones, Jones' father, who was with them at the start of the trip before returning to Atlanta to leave the girls to hike, asked the rangers if it was an acceptable idea to let the two 17-year-olds camp by themselves for a week.
"The ranger asked us if we were going by ourselves, and Walden's dad, who was there at the time, said 'Yeah, what do you think about this? Is this safe?' And the lady shrugged and asked if we had coats and gloves, and as emphatically as we could, we told her 'Yes,'" Robinson said. "As soon as she left, we were like 'Ok, now we have to go get coats and gloves, and everything else that we would need to stay warm.'"
Over the five days that Jones and Robinson camped throughout Allenspark, Colorado, they distinguished two experiences that ultimately defined their excursion.
"One [experience] was on the first day when we set up our campsite, which was only two miles into the trail, and then we went exploring and found this beautiful waterfall called Ouzel Falls," Robinson said. "Everyone there was looking at the top of the waterfall from down below, and we decided that we were going to find a way to look down at the bottom from the top. When we got to the top, there was no one else, and we were so high up. We were looking down at the people, and they started taking pictures of us on top, so we ran down and asked to see the pictures. We were tiny little blips on the top of this huge waterfall."
"The other cool place was when we decided to bushwhack to the top of [St. Vrain's Mountain]," Jones further explained. Bushwhacking is a common method for hikers to explore unmarked "pathless" paths.
"That was really pretty up there," Robinson said. "Getting up to the top was really hard because there was so much snow, around five feet. So we kept falling all the way down to our waist in snow. We would look to the top of the mountain, and we thought it wasn't that far away, but then 15 minutes later, we would look up, and the top of the mountain would be even farther away."
Jones described feeling discouraged but even more determined to reach the top of the mountain they spent an entire day climbing, even after constantly seeing "more and more mountain" looming above them on the trail. It is the connection between the two girls, noticeable by all who observe them for any period of time, that helps them persevere through difficult situations.
"They seem like the best friends ever," said Andrew Copeland, Jones' and Robinson's AP Psychology teacher. "I wish I had a friendship like they have. Their in-class dynamic is quiet, but they really get along, and you can tell they enjoy all of the same things and each other's company."
Jones and Robinson both attest that the vivaciousness of their relationship is what makes difficult circumstances easier to handle.
"We're always laughing together, and we can always laugh through situations even if they're terrible," Robinson said. "Sometimes, I think we need to take things more seriously, but we do everything with the mindset that we just want to have fun all the time."
As for what their futures in college holds, Jones and Robinson know their friendship won't suffer just because of distance. Jones plans on attending Georgia Tech, while Robinson is going to Brandeis University in Massachusetts.
"During all the breaks when we're back home, we are going to keep going on more hikes and keep camping," Robinson said. "That's our agreement."
"One day, we're going to roadtrip across America," Robinson said.
There is only one obstacle in their way.
"All we need to do is find a car," Jones said.
Leave a Comment
About the Contributor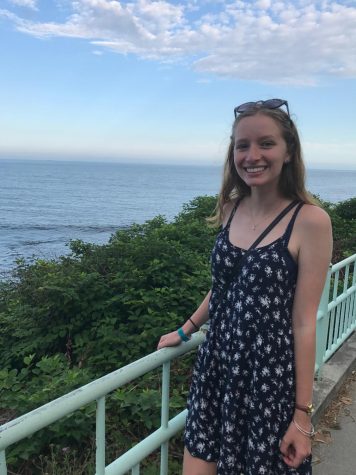 Olivia Podber, Co-Editor in Chief
Olivia is a senior at Grady and excited to be the Co-Editor in Chief of The Southerner! This is her second year as a staff member on The Southerner, and...