Damiani bridges language gap in science project
American Sign Language is for the American deaf. English is for the American hearing and speaking. Grady junior Ethan Damiani has found a way to integrate both, winning multiple awards at the state science fair.
These awards include: the Intel Excellence in computer science award, the Society for Science and the Public award for Community Innovation, Yale Science and Engineering Association award, Best in Category: Embedded Systems, Regional International Science and Engineering Fair trip winner and Senior Division: second honors.   
Damiani's idea for his project started with a friend and a simple research topic.
Damiani says that he was talking to junior William Poss about "tech for the mute" and "My brain just started spinning, trying to figure out how I could help."
"I was doing a current event assignment in my engineering class and it was about this mechanical glove that read sign language," Poss said. "It was super interesting; so, I wanted to talk to someone about it, and I guess it must've hit home for him."
That research, along with Damiani's creativity, led to his latest science fair project.
"I designed a glove that you can put on your hand, and it detects the motions and the different gestures you make," Damiani said. "It then translates those hand motions and gestures into English. American Sign Language is what it's called, and you spell out words or you make phrases, and it will say it in English."
Many are impressed with Damiani's newest innovation, yet not all are surprised by Damiani's original thinking.
"Ethan is a wonderful person," engineering teacher Tonia Schofield said. "Ethan is a person [that] I told him if he was a beaver and the dam was finished, he would still be trying to work because Ethan never [stops working]. He is very persistent and consistent about everything he does."
Last year, Damiani's project consisted of the manipulation of magnetic fields, and the year before it was about wireless energy transferring through different wavelengths. He usually advances to the state fair, as he did this year.
This year his project consisted of a general work glove from The Home Depot and many different sensors that attach to the glove. Damiani then programmed a computer that says, "If the glove has this motion, then output this." To help the project move forward, Schofield helped fund it.
"I think the engineering department got a grant this year, so she helped me buy all of the sensors, so she was a lot of help for this," Damiani said.
The school offers several different types of grants, but there are also small grants outside the school.
"I write grants to them, and I find money for them," Schofield said. "They pretty much do the research. They already know the engineering design principles and process, so all they need is funding."
Looking into next year, Damiani has already started thinking about what he may do for his next science fair project.
"If I do a continuation of the project, I don't think it will be the same," Damiani said. "I won't go with the same glove. I'll go with an app design that can look at someone and film their hand and then translate it from there because I feel that is much more convenient."
Damiani hopes to use his engineering and science related skills to help people in the future.
"For me, science is a way to not only further our abilities as humans, but to also find cheaper and more effective ways to give [to] people in need [of] a higher quality of life," Damiani said. "It's also just something I love and hope to contribute to one day."
Schofield says Damiani is a great problem solver and critical thinker, and he is demonstrating what he has learned through the years.
"I have [a] numerous [amount] of students already at Purdue, Georgia Tech [that] are already accepted, and I expect no less from Ethan," Schofield said. "Not only is Ethan going to go to college, but he is going to do some great things before he even gets there."
Leave a Comment
About the Contributor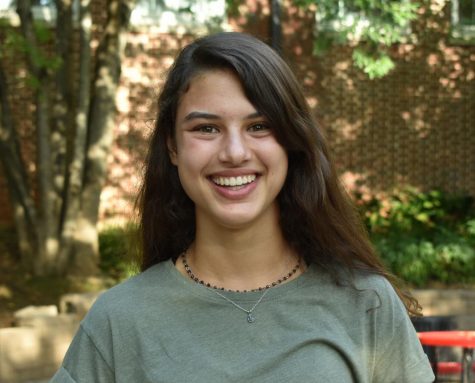 Kaitlin Palaian, Sports Managing Editor
Kaitlin Palaian is a senior and ready to co-lead the sports section to excellence this year. She is excited to be on staff again this year and share what...