Region champion boys tennis team's season ends in playoffs
The boys tennis team had a strong 2018 season under first-year coach Val Taylor, winning the Region 6AAAAA tournament for the second year in a row. However, the team didn't advance through the Sweet 16 of the state tournament after a loss to Flowery Branch 3-0 on April 24.
Although the team got off to a slow start, going 1-4 in its first five matches, it made up for lost time, winning seven of its last eight matches, finishing the regular season 8-5.
Coach Taylor's dynamic approach has been beneficial to the team this year, and the players have taken notice.
"I think there has definitely been more structure in our practices, and I think that's helped us as a team," junior Josh Wolfe said.
Wolfe made a large impact on the boys team this year, going 13-1. Not only did he help the team by winning matches, he also played a leadership role with the younger players.
"Having experienced players on the team is always great," said Cassius Taylor, a freshman line two singles player. "When Josh wins, it really pumps me up and pushes me to win my match as well."
Taylor has been playing tennis for 10 years, and knows that having mentor players to play alongside can help his development.
"I've been playing with Josh for about six to seven years now, and he has shown me that it's really important to keep a relaxed attitude when playing," Taylor said.
As with most sports, the mental aspect plays a huge role in tennis and can be the difference between a win and a loss.
"Tennis is extremely mental, more than physical," Wolfe said. "What separates me from other players is the will I have to win."
The importance of young players this year was high as it is with most rebuilding seasons, and Taylor was the outstanding underclassman this season.
"I think in the past, we haven't had as much of a reliable number two or number three singles, but Cash (Cassius Taylor) has a lot of experience," Wolfe said. "He used to compete in a lot of junior tournaments, so he is a very talented player."
Although the season had upsides, it had negative aspects as well. Junior Maximus Freightman expressed the importance of being able to build off of this season.
"This season was really a learning curve because we got to see the younger guys play," Freightman said. "Next year, we will take what we can get and be a better team."
Freightman isn't the only one looking to the future for success, as coach Taylor also believes the up-and-coming players will be impactful.
"We're building; I've got the eighth graders from Inman [Middle School] coming down. We're practicing as soon as the state tournament's over," coach Taylor said. "We'll be ready for next January."
Wolfe has high expectations for the 2019 season, mentioning that with the experience gained from this year, "There's no reason why we can't win the entire state tournament."
In order for this ambitious goal to be achieved, coach Taylor has an idea of what needs to happen to put the team in a position to win, proving her preparedness and faith in the coming season.
"I think they've got to believe in themselves, the dedication [at] practice, and we've got to have commitment to tennis."
Leave a Comment
About the Contributor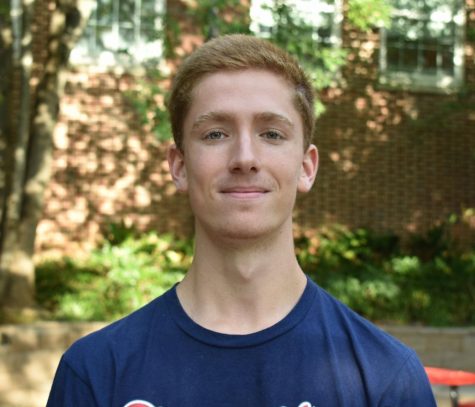 Elias Podber, Sports Managing Editor
Elias Podber is a senior this year and is excited to co-lead the sports section of the paper to new heights. He is captain of the cross country team and...