Boys track wins region, four score at state
After winning its region track meet for the fourth consecutive season, the boys track team finished 13th at the 5A state meet.
Last season, the Knights came ever so close to a state title, finishing third.
Senior Colby Williams set the school record for the discus and shotput this season, finishing 3th and 7th in these events respectively. Senior Darohn Crooms finished 6th in the pole vault. 
Seniors Aidan Goldston and Isaiha Davis finished 12th and 5th in the 3200 meters, and 6th and 9th in the 1600 meters.
Davis and Goldston have been running distance track and cross country with each other since ninth grade. They are often neck and neck and are very competitive with one another. Along with the rest of the senior class, Davis and Goldston were region champions every year during their time at Grady.
"I think it's amazing that we have won region all four years," Davis said. "I like to make jokes about Aidan and I being the boost the team needed."
Davis and Goldston have won four region titles as part of the Knights track team. After both made the varsity track team as freshmen, they have been mainstays as first and second places, often switching places with each other.
"We are competitive with each other," Davis said. "It's great, without him, I would definitely be pretty bad."
Early on this season, Goldston missed time with injuries, forcing him to step aside from running for months. Davis missed his teammates' presence.
"It was a little different [without Goldston]; I'd probably be faster if he was there to push me," Davis said. "He's a natural with amazing talent and incredible drive on top."
Goldston was disappointed while injured, but never gave up hope and recovered in time to return to a high level of competition by the end of the season.
"It was upsetting for a long time but never totally hopeless," Goldston said. "Since I couldn't run I took some of the time to strengthen my upper body so that I would be ready at least when I started running again."
Next year, Davis and Goldston will continue their athletic careers at Oglethorpe  University on the track and cross country teams. Davis believes having his longtime teammate and friend make the transition to the next level easier for both of them.
"Having us both running in college really puts things into perspective on how good we are," Davis said. "I think having both of us there will make things easier at Oglethorpe."
Goldston likewise appreciates their similarity and hopes they will continue to push each other in the future.
"Isaiha and I have always pushed each other past our limits," Goldston said. "So having a teammate like that in college as well would be awesome."
Davis, who has been the frontrunner ahead of Goldston this season, appeared to be lagging behind Goldston at the Region 6AAAAA meet, but Davis was able to kick it in to keep his top tier status.
"My favorite memory running with Aidan is when we were at region and everyone thought he was going to beat me but then I caught up and beat him at the end."
With this race in mind, Goldston had the goal of finally beating Davis again, doing so in the 1600 meters at the state meet.
"If I can [beat Davis] I will," Goldston said before the meet. "I'll always compete with him but mostly running with him is what motivates me. I don't need to beat him, especially since he's on my team, and he's had more practice than me. I expect him to run faster than me; otherwise I'll just be disappointed. I just need to work with him and compete with the other teams. "
Leave a Comment
About the Contributors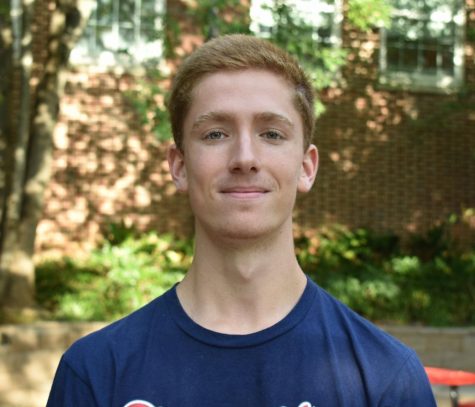 Elias Podber, Sports Managing Editor
Elias Podber is a senior this year and is excited to co-lead the sports section of the paper to new heights. He is captain of the cross country team and...