New football coach sets expectations for team
By Charlie Toole
With the hiring of new head football coach Kevin Clark, Grady's football staff has taken shape.
Clark has named Shannon Williams offensive coordinator and Richard Reed defensive coordinator. Williams is a former Grady assistant coach under former coach Ronnie Millen.
"Right now, I still need to hire a bunch of guys, but I plan on being fully staffed with at least 8 to 10 guys," Clark said.
Even without the full staff, the coaches are getting the ball rolling with offseason workouts and training programs.
"We're going to hit the weight room hard and have a tough offseason conditioning program," Clark said. "We're going to hit the 7 on 7's and possibly attend an FCA (Fellowship of Christian Athletes) camp."
The coaches held their first meeting with the players on Jan. 11, where they discussed their expectations of the players both on and off the field. The staff took turns speaking,  talking a bit about their own experience to assure the players they were prepared for the job. The players seemed excited about the new staff.
"I feel like [the coaches] will be great because they have a lot of experience," sophomore lineman Rashiid Jeffries said. "We should have a fun season. It's gonna be different than last year, and I hope it flows."
In Clark's first speech to the team, he stressed the unity and brotherhood that the team must form to be successful. He urged the players to look out for each other and to always remember they are playing for the players beside them.
"One of our weaknesses has been that unity and togetherness were never really a big part of how we play," Jeffries said. "This coaching staff seems like they will stress team bonding and bring us together more. They will help us be a team every day, so we play like that in games."
The coaches did not seem deterred, but rather excited by the team's youth. Many underclassmen return in key roles. The younger players will allow Clark and his staff a chance to develop the players themselves so they can execute the game plans the new staff wants to execute.
"I think it's one of our strengths — that we're young," Jeffries said. "These coaches will have most of us for a couple years to develop our talent."
The team has almost seven months to become more unified and go through rigorous workouts, and with the new coaching staff, the results come playing time may be something to watch.
"[The kids] seem excited. I'm excited to work with them and see them," Clark said. "I'm ready to work for and I'm here for the kids.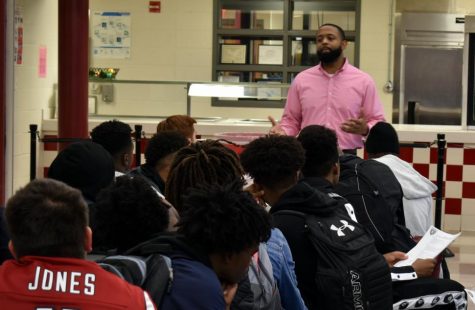 Leave a Comment