Boys volleyball team makes history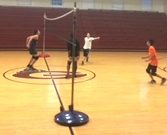 By Dana Richie
The sound of a volleyball slamming into the linoleum floor echoes through the old gym. A serve arcs over the net, the receiving team scrambles to get to the ball.  Each player works hard, diving onto the ground and extending themselves past what is humanly possible to keep the ball in play. Suddenly, the ball is spiked to the ground, and one side erupts in cheers. The players on each team gather together and give each other high fives.
The Grady boys volleyball team is historic for both Atlanta Public Schools and Grady. It is the first boys volleyball team in all of APS. Since this team is one of a kind, it has been hard for them to find competition. However, that hasn't stopped them from gelling and becoming a tight-knit group of friends.
"We're the first people who've really done this," freshman player Nick Bizot said. "It's kind of a new environment for everyone, so we go forward together."
What initially started off as the idea of a few freshmen has turned into a well-oiled volleyball machine, building as a team both on and off the court. Most of the players were friends before the team was established, and as it grew, new players were welcomed. Through their shared experiences, a strong bond formed.
"We can really build off of each other because pretty much all of us are friends in some way," Bizot said.
This core group of freshmen started out playing sand volleyball at John Howell Park while they attended Inman Middle School. But they all dreamed of playing court volleyball at Grady. They knew that the path to their dream was attainable, but it wasn't going to be easy.
The first step in the process was to create a petition, on which they got a total of 120 signatures. Next, they went to Principal Dr. Betsy Bockman who who gave their club approval, further advice, and was supportive from the get go.
"Athletics and fitness are important for every student, so kudos to the young men who brought forth the proposal for volleyball," Dr. Bockman said.
These freshmen's dreams turned into a reality once Athletic Director John Lambert gave them gym time and Lee Pope signed on to be the team's teacher sponsor.
"At first [the process] was really exciting, like doing the petition and stuff like that," freshman player Adham Attia said. "Then after we got the petition and the club was approved by Dr. Bockman, we had to wait four weeks before we could get gym time."
The team currently has only eight members, and half of them are freshmen. All of the team members emphasized the importance of additional members in the future. That way, they can play full court games and expand their horizons as a team.
"I'd say the only thing that I would want more of is more players since we only have eight right now, but everybody is really good and we enjoy practices," Attia said. "We all help each other out and that's what I envisioned a team would be like."
The team practices from 6:30 to 8:15 am on Wednesday and Friday in the old gym. But their practice isn't restricted to just that, and you can often see them passing around a volleyball at lunch or in between classes.
"It's really nice to see the boys playing volleyball in the courtyard," freshman Owen Fucile said. "It really shows how there is something for everyone at Grady."
The captain and only senior on the team, Ash Sullivan, expressed how being part of this team made him feel. He said the atmosphere is warm and encouraging and that they would accept anyone who wanted to join.
"We enjoy ourselves," Sullivan said. "We play good games. Practices are somewhat structured. We've actually somewhat improved, so come on out."
Leave a Comment
About the Writer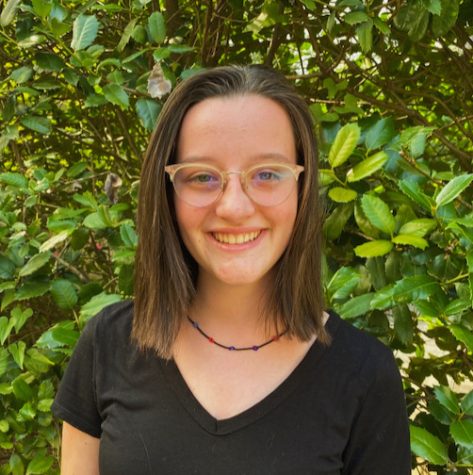 Dana Richie, Co-Editor in Chief
Dana is a senior who loves using her voice to tell other people's stories as well as share her own views. She really enjoys writing for the Southerner...