Clark named Knights' new football coach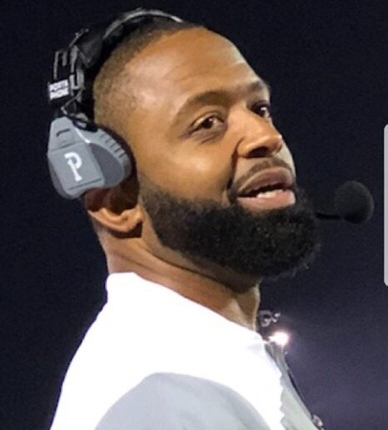 Mays defensive backs coach Kevin Clark has been named Grady's new head football coach. 
Clark spent his college football career as a defensive back at South Carolina State, and from then on was a defensive backs coach at eight different schools, including Banneker and Mays high schools over 18 seasons.
Grady, however, will be his first season as a head coach. With the new job comes a handful of hurdles, including restoring Grady as a football school following a 2-7 season. 
"There is still a culture of hard work and excellence at Grady. The mix of community involvement, high academic and athletic standards were the most appealing parts of Grady," said Clark.  
He comes from a successful program, as the Mays Raiders went to the third round of the 2017 playoffs, posting an 11-2 record and losing to eventual Class 6A state champion Lee County.
For Grady however, last season was a tumble from grace, as the Knights went from region champions to missing the playoffs while winning just 2 games.
Looking ahead to the upcoming season, Clark said, "I've seen [game] film, and I'm enthusiastic. We have a lot of kids ready to step up with playing time opening up. We will be working out of a spread offense and running the ball, but we'll adapt to the opponent we're facing."
Clark added he will make changes to the conditioning program.
"We are also going to have a new workout program to increase stamina and conditioning," Clark said.  "As for our goals for the year, we have to take everything one game at a time, and we want to just look at every team as a group of guys that we can beat at football."
With the new position as the head of the program, lots of responsibilities set in. Those include managing the public view of the team, dealing with scrutiny, and community outreach. It is hard to juggle everything at once, but Clark seems up for the challenge, even bringing in fresh ideas for the program.
"I want to develop a youth program by reaching out to the feeder schools, and having my players speak to the middle school kids, and grow a community relationship," Clark said. "I am in charge of the whole program, and at the end of the day, everything is on me. And it is on me to make sure that everyone is on the same page."
Clark said he will be adaptable to changes as new student athletes come into the program.
"Everything is a challenge, regardless of how long you've been coaching," he said. "Every year, for every coach, it's a different team. As for dealing with players, I am stern, but fair. I think if you're consistent with your rules and regulations, then you can keep expectations where they need to be."
Clark left his old job with a legacy as Mays head coach, Niketa Battle, had plenty of positive words about the character of the newest Grady Knight.  
"He is very knowledgeable when it comes to football, and has been coaching for 15 years," Battle said. "We went from a regular defense to the number 1 in the state. Those skills are transferable to the whole team. If it's anything similar to what we do, I know that you all are going to be very successful."
Battle said Clark puts his all into his coaching and guiding athletes.
"He puts his passion into what he does; he's going to be very stern, but at the same time, you're going to be able to approach him," Battle said. "He coaches hard, and everyone loves him. His students love him, and the players love him. You're getting a great guy both inside and outside the building."
The football season is still eight months away, but this move gives an answer to the large question of who will succeed coach Earthwind Moreland.
Clark is a math teacher, and is currently working on arrangements to come to Grady before the end of the current academic year. 
The familiar coaching staff at Grady does not have a lot of experience with Clark, but Grady Athletic Director John Lambert is confident the new coach will make a difference.
"He's very in depth, very high football IQ and in teaching as well," Lambert said. "Next season, we are going to work hard, in the weight room, and Grady is going to get back to the winning ways, and coach Clark really is able to reach the students and push them to another level."
View Comments (3)
About the Contributor
Sean Sweeney, Sports Writer
Sean Sweeney is a sports writer and photographer specializing in football. After three years on the staff of The Sting at Roswell High as a sports writer,...