The Day of the Dead is a living tradition
The streets are lined with color and masks. People with skeleton-painted faces and brightly colored clothing march about as music plays in the background. When the sun sets, these flamboyantly-dressed citizens carry food, drinks, pictures and small trinkets as they make their way to the final resting places of their departed loved ones.
For hundreds of years, sugar skulls and skeletons have decorated the streets of Latin American countries as citizens pay tribute to their deceased and celebrate El Día de los Muertos, or Day of the Dead,  from Nov. 1-Nov. 2.
"If we don't remember [the dead], they will be forgotten," freshman Carlos Felipe said.
Despite its name, Day of the Dead is a celebration of life that began more than 3000 years ago. Originating in Aztec and Mayan cultures, El Dia de los Muertos spread to northern parts of South America until it found a stronghold in Mexico.
In Mexico, The Day of the Dead is a national holiday in which thousands participate each year. The holiday is religiously associated with All Saints' Day and All Souls' Day, a Catholic celebration that commemorates the souls of fallen family members.
"At midnight on Halloween, the dead come to earth," mother Rose Palafox said. "We only have a little time with them, so we aren't sad during El Día de los Muertos. We have to celebrate while we can."
Living family members create altars at gravesites and decorate with food, family photos and gifts. Rather than mourn in the graveyards, there is a huge party that lasts through the night.
"We go to the cemetery and my family  drinks Tequila and we party," sophomore Yasmine Bagwell said. "We cook Pan de Muertos and put oranges and a glass of water and a candle on the altars. When the spirits all come back they are probably hungry."
However, despite its deep rooted family and religious ties, not every Latin American country celebrates El Dia de los Muertos. Though it is commonly associated with all hispanic countries, it is centrally celebrated in southern and central parts of Mexico.
"El Dia de los Muertos has always been a part of my family, and now I celebrate it with my kids," Palafox said. " But don't make the mistake of thinking everyone celebrates it. I have Colombian and Venezuelan friends who don't celebrate it at all."
El Dia de los Muertos is often stereotyped and is commonly associated with Halloween, when in reality, Felipe claims "it's nothing like Halloween because there are no scary masks and there is no candy." It is a more religious holiday than it is about dressing up
As Halloween approaches many Americans disregard The Day of the Dead because it is not as common in American tradition; however, Mexican-American school students try to keep the holiday alive by "taking special food to school and doing an altar."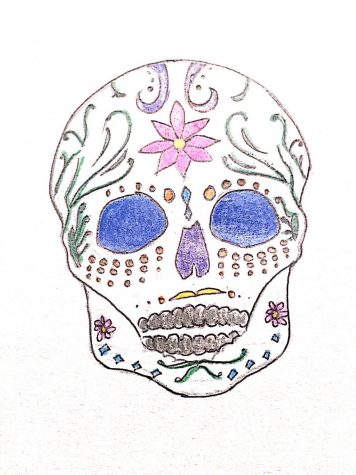 "It's really important to me and a lot of other Mexicans to keep El Dia de los Muertos going," Palafox said. "We want it to be its own thing all around the world, and I think that starts by maintaining tradition and breaking stereotypes."
Leave a Comment
About the Contributor
Morgan Watkins, Author
Morgan is a senior and this is her first year on The Southerner, but she is excited to be writing. When she is not writing she can be found in the theater...